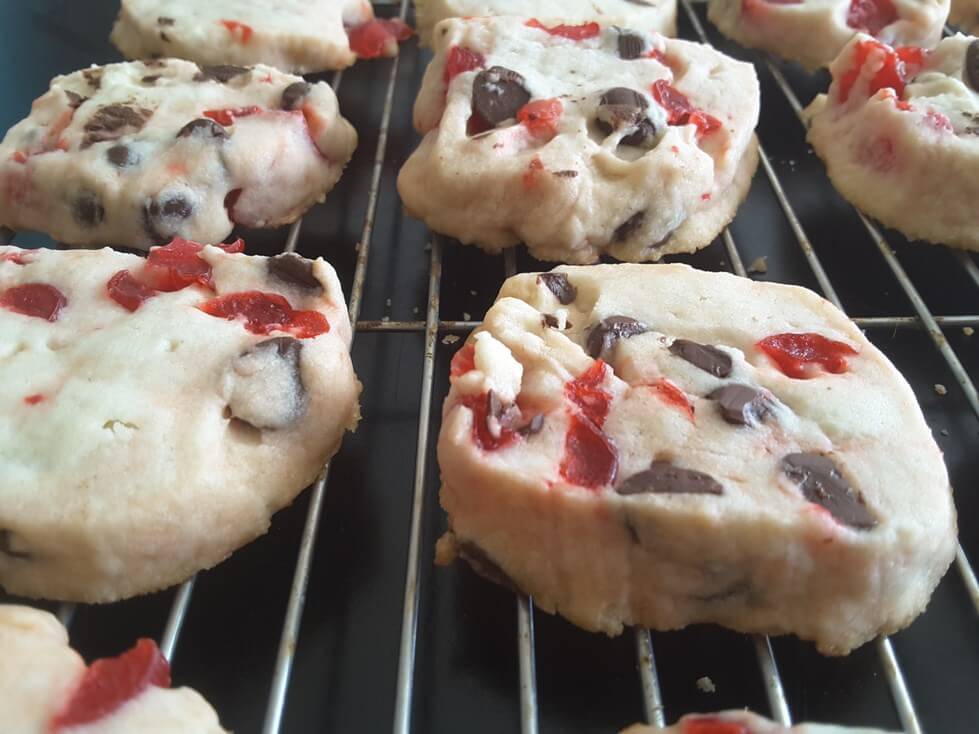 It's time for another F'n Friday! This was suppose to be a Friday tradition, where we combined Feel Good Friday drinks with a game called Florida or Fiction, where I give headlines and you guess if it happened in Florida or is Fiction. I did the first one the beginning of December with this post. However, it's now end of January and I'm only on my second one. Sadly, this isn't because of a lack of weird Florida news. There has been plenty of that. There has also been drinking as well. I have no excuse, other then I just didn't wanna. 🙂
But today I had to make cookies to bring to a friends tonight. And while cookies are not a drink, and these cookies don't even have alcohol in them, they are loosely related to drinking. In that Michael went on a drinking old fashioned's kick a while ago, and we ended up with two jars of maraschino cherries. Combine that with this recipe I have had pinned for forever, and F'n Friday it is!
So, todays entries for Florida or Fiction are:
1. Man passes a joint to a cop while illegally parked in a handicap spot with a gun in the car.
2. St Petersburg woman charged with throwing a bloody tampon at a cop during domestic dispute.
3. Man took his pet rabbit surfing in Melbourne Beach
4. Florida man disfigured in a fight over Minute Maid punch.
5. It wasn't the pot that got them busted. It was the 114 crabs and reptiles in their van.
6. Group of drunk fraternity brothers wore mermaid tails at beach, insisted they were mermaids.
7. Officer dresses as the Grinch and gives motorists choice of ticket or onion for holidays.
8. Man kills stepson over a chili dog.
So as previously asked, how much faith do you have in humanity? Which ones are real Florida stories, and which ones are Fiction?
Ponder while I eat one of these delicious cookies. It is a delicious, buttery, flakey cookie base, filled with chunks of cherries and chocolate. Even though baked, the cherries still have a fresh (which is also weird considered how preserved they are 🙂 ) bright taste, and of course, the chocolate pairs great with it.
These cookies do need to be put in the fridge for at least one hour between preparing and baking. I'm normally opposed to two part baking, as an hour of down time might kill my baking urge, but this wasn't bad. I created a long, thin log in the plastic wrap, and then once it was actually wrapped i patted it into a prettier shape.
Make sure your chocolate and cherry distribution is good before putting in the fridge, because they will be solid when taken out and cut, and at that point it is too late to add extra chocolate or cherries to the slices. And you want a lot of each in each slice. The chocolate will comfort you when you realize how many of the stories above are true. 🙂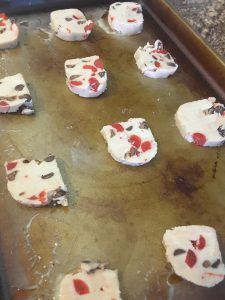 Chocolate Cherry Maraschino Cookies
Ingredients
1 cup unsalted butter, room temp
1/2 cup powdered sugar
2 cups flour
1/2 tsp salt
1 tbsp vanilla
1 cup chocolate chips
1 cup maraschino cherries, diced
Instructions
Mix butter and powdered sugar.
Add in flour and salt, mixing till clumps form.
Mix in vanilla.
Stir in chocolate chips and cherries.
Place batter onto plastic wrap. Use hands to form into long rectangular shape.
Completely cover with the plastic wrap, and smooth out shape.
Place in fridge for one hour, minimum.
When ready to bake, preheat oven to 325.
Take cookie dough out of fridge and unwrap.
Slice and place on greased baking sheets.
Bake for 10-15 until browned.
https://discoverph.com/fn-friday-chocolate-cherry-maraschino-cookies/