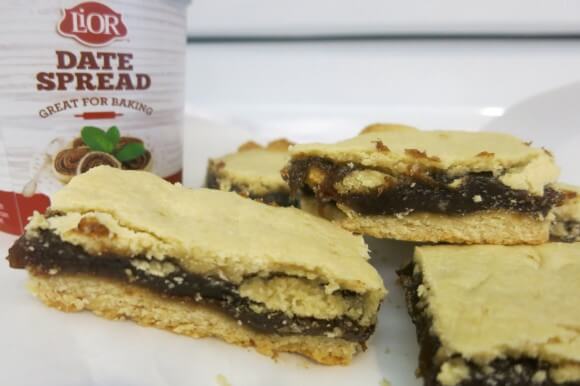 I grew up in Southern California, where the only natural disasters are earthquakes. And since you don't know when an earthquake will hit there is no build up to it. Except that one time when I was in junior high and it was the day that Nostradamus had predicted a massive earthquake. Half of my school didn't show up. Which meant less people got to hear me ask "what's shaking?" and then laugh hysterically. Their loss. 🙂
Then I moved to Arizona, where the only weather is hot and hotter. So again, no natural disasters that are tracked for days on end.
But now I live in Miami. But I still have an Arizona mindset. And I get the majority of my news from Facebook. Where the majority of my friends are in Arizona. So I hadn't been paying much attention to Erika. But then I got a text from a friend saying she had made a reservation at a hotel an hour inland, starting on Sunday. And the condo building wallpapered the front desk, elevator and our front doors with flyers saying that everything must be removed from balconies. And my email started blowing up with notices from the school and Town of Surfside about emergency procedures. And then of course the grocery store got in on it too. And Bed Bath and Beyond. Cause they care. 😉
When people started talking about buying water I realized I might actually need to make a game plan. I was hung up on losing electricity, and all I could think of was having to keep the kid entertained and distracted for possibly a few days with no tv or iPad. So my head was stuck on board games, library books, and snacks. I reached out to a friend who has lived here for 15 years and asked to borrow her game plan. She told me:
– lots of ice and water
– a camping stove
– fill cars with gas
– have cash on hand
– wash sheets before cause clean sheets are nicer when you have no act and it's hot. But that really just made me think about clean underwear. So I washed some of that today.
– candles, lanterns, flashlights
– paper plates and antibacterial wipes
She also told me that after storm passes, if damage is minimal or preferably nonexistent, but electric is out, it can actually be fun. Neighbors come out with bbqs and their food and it's like a big block party. It's a good thing we will have clean underwear. 😉
We already had plans to go visit my aunt tomorrow and I had said I would bring dessert, so I figured since I was baking anyway I would make more. Then we can either eat while playing our board games or share with neighbors.
I decided to start the baking with some fig bars. I have made these once before, using a recipe I found on Tracey's Culinary Adventures. Now, she makes her fig spread from scratch. But I'm AZ Level. The last time I made them I used fig butter I got from Apple Annie's. And I vowed that I would continue going to Apple Annies just to get the fig butter so I could continue to make these incredible bars.
But then I moved to Miami and there went trips to Apple Annie's. Luckily I found a container of date spread in the Kosherland store around the corner from me, and bought with this specific recipe in mind. And it's just as good as the figs. Which means it's excellent.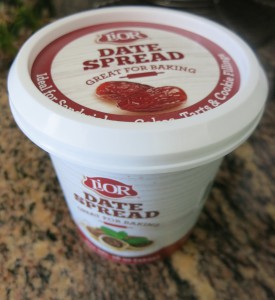 But if you don't happen to live near a Kosherland (ha!), then I've heard Trader Joes has a good fig butter.
The dates are a little sweeter then figs, which to me is a plus. And it goes well with the buttery crust. The neighbors are going to love me. 🙂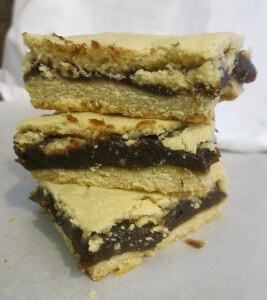 Date Bars
6 tbsp unsalted butter, room temp
3/4 cup brown sugar
1 egg, room temp
2 tsp vanilla extract
1 1/4 cup flour
1/2 tsp baking powder
1/4 tsp salt
1 container of date spread (or fig butter, if you prefer)
Preheat oven to 350. Prepare a 8 x 8 baking pan by lining with tin foil, and spray with cooking spray.
Place butter and brown sugar in mixing bowl, and beat until creamy. Add egg and vanilla, beating until combined.
Whisk together flour, baking powder and salt. Add slowly to butter mixture. Beat until combined.
Take 3/4 cup of dough, and set aside. Press remaining dough into baking pan, making an even layer. Bake for 20 minutes, until browned on top.
Take remaining dough and roll into an 8 inch square. Place in freezer.
When 20 minutes is up, remove from oven, and spread a nice thick layer of date spread on top. Place the frozen piece of dough on top, and bake for additional 25 minutes, until dough is browned.
Let cool completely before cutting and shoving into your mouth. 🙂