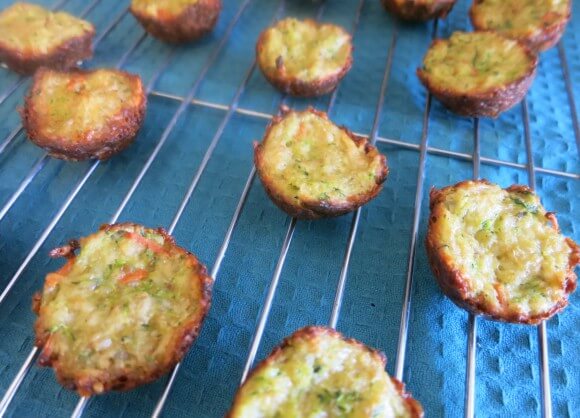 In the Chicken and Tomato Orzo entry I listed all the perks Surfside offers it's residents, courtesy of the obscene amount of property and resort tax money it receives. I forgot to mention one though.
The community garden.
It's this little lot in the neighborhood, filled with a dozen or so individual garden plots. Residents can sign up to receive a half plot for $40 or a full for $60, for a year. And that gets you fresh soil and water.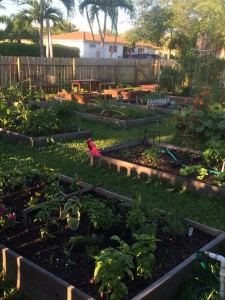 I signed up for a plot when we moved here, and have renewed it once already. Because Averi LOVES vegetables. Now don't get me wrong, the girl can kill a steak. And of course the required child foods of hot dogs and chicken nuggets. And she will eat noodles and bread till she has carb loaded enough for five marathons.
But she also consumes large quantities of vegetables. Broccoli, spinach, corn, carrots (soft), green beans, peas, tomatoes, avocados. She will eat it all and then some. So the garden is great as we can plant a lot of vegetables there. Averi loves tending to the garden and eating what we produce. Especially the tomatoes.
And while I am thrilled I have a good, healthy eater, I will admit a part of me is sad. I was kind of looking forward to making some of those "hidden veggie" recipes. They look good. But Averi doesn't really like the hidden veggies. And since I'm lazy, I got tired of making recipes that she wouldn't eat, when I could just place the spinach raw in front of her and have her inhale it.
But there is one recipe I still make, that is easy to prepare and she loves. Zucchini tots. They are kind of like tator tots, but healthy. And with only five ingredients, it takes all of five minutes to make.
I found the recipe at Curious Country Cook. The original recipe calls for zucchini and onions in it, plus your three binders. However, despite her love for veggies, Averi is not a huge fan of onion. So today I replaced the onions with carrots. Because the reason I made them today was that I had half a zucchini left from the Spicy Thai Noodles I made the other day, and I didn't want it to go to waste. But the half a zucchini was not enough to make a full cup of grated.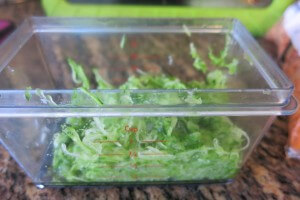 So I added shredded carrots. I figured the color would brighten the dish, and add another layer of health.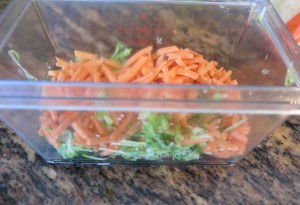 They taste fantastic. Little bit of crunch from the browned top, but still moist. And the flavored bread crumbs add a nice burst of flavor that helps make them taste like the tator tots, versus zucchini and carrots.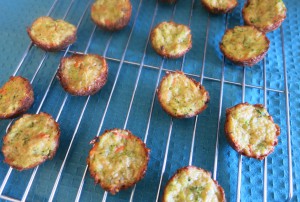 The zucchini and carrots we are planting in our plot will never go to waste.
Zucchini Carrot Tots
½ cup zucchini, grated
½ cup carrots, grated
1 egg
½ cup parmesan cheese
¼ cup Italian bread crumbs
preheat oven to 400.
Squeeze all moisture out of the zucchini. Mix with all other ingredients until combined.
Scoop spoonfuls into a greased mini muffin tin. Bake for 15 minutes, until they are browned on top. Cool on a baking rack then enjoy!