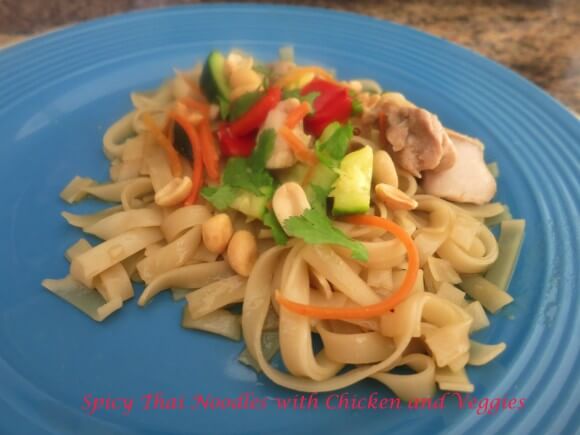 Averi has a friend over, and I was productive yesterday, so I have a few hours ahead of me with nothing to do. I don't even need to make dinner for tonight cause I have book club and the husband and daughter have leftovers – Spicy Thai Noodles with Chicken and Veggies.
So while the girls play nicely, I will read. I love to read. When we first moved here I immediately joined two book clubs through meet up, as it enabled me to read while meeting new people. Double win. One I am still in – the one meeting tonight. We meet in restaurants and read lighter books, which we discuss briefly while also talking about other interesting topics. Plus I have become good friends with one of the ladies in the group.
The second group I did not stick with. They meet in a bookstore that is around 45 minutes away, on a day that is not convienent for me. And they read heavy books. And then that is all they discuss. In great nitty-gritty detail. One girl actually talked about how she didn't think the slang used in that months' book was appropriate for that era/location/socio demographic. So she researched it. Researched it! She ruined the book for me.
However. I made my very first friend in Miami through that book club. I went to a meeting my first week here, and a lovely girl sat down next to me. She had been in Miami a whole two weeks longer then me. Ie, she was equally desperate for friends. We exchanged numbers and began to hang out. We explored the city together, ate at many great restaurants, saw movies and even went kayaking together.
Two nights ago we had our last dinner together. Her husband accepted a job in London and they leave next week. I cried while hugging her goodbye and driving away. And those of you who know me know I don't hug or cry. But this is what sucks about Miami. No one seems to stay here. She is actually my second friend to move, and a third is scheduled to move next month. And of my friends still here at least half of them hope to/expect to move within the next couple years.
Luckily Facebook, texting, emailing and cell phone plans that have unlimited minutes make it easy to stay in touch with people. As does having awesome friends who want to stay close. I came home from my goodbye dinner to find this in the mail, from incredible friends in Tucson.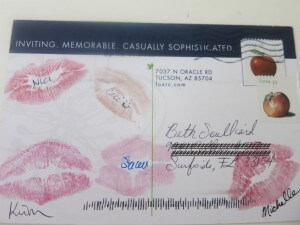 It lifted my spirits so much. And reminded me that friendships bring great joy, too. So I'm putting my sadness aside, and going to book club tonight. And if someone new to town is there I'll give them my number, in case they are in need of a friend. And then they will cry when I move. Circle of life. 🙂
And while I am doing that, and discussing the 19th Wife by David Ebershoff (fantastic book, highly recommend), the husband and daughter will be enjoying the Spicy Thai Noodles with Chicken and Veggies that I made last night.
I found the recipe on A Small Snippet. The original recipe is more of a side dish, with just some basic garnish added to the noodles. But you know I love to combine my proteins, veggies and starches into one big, easy dish.
So I added chicken, zucchini and red pepper. Plus the carrots and cilantro from original recipe.
I also used rice noodles instead of angel hair pasta, as 1) that's what I had in the pantry and 2) it seemed more fitting for a Thai dish.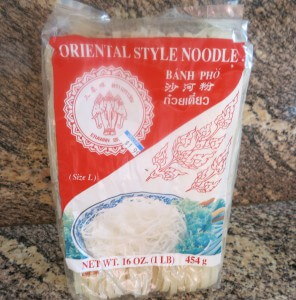 The sesame oil and red chile flakes add a nice spice as well as a smoky flavor from being heated.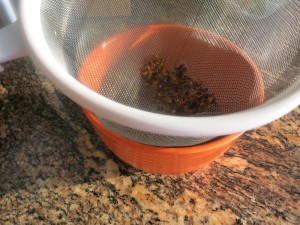 And the peanuts give a nice salty, crunch.
So make a big batch. And enjoy it with friends.
Spicy Thai Noodles with Chicken and Veggies
1 package rice noodles
2 tbsp crushed red pepper
¾ cup sesame oil
6 tbsp honey
6 tbsp soy sauce
3 chicken thighs, cut into bite size pieces
1 zucchini, chopped
1 red pepper, chopped
1 cup grated carrot
½ cup cilantro
½ cup peanuts
Prepare noodles according to package. Let cool.
Heat red pepper and oil in a small saucepan. When hot, remove from heat. Strain pepper flakes out, pouring oil into a bowl. Whisk in honey and soy sauce.
Pour sauce over noodles, mixing thoroughly. Place in fridge to cool down while preparing rest of meal.
Cook chicken over medium heat. When almost cooked through add in all vegetables. Continue cooking till chicken cooked and vegetables soft.
Prepare plate with noodles, chicken and vegetables. Garnish with cilantro and peanuts.