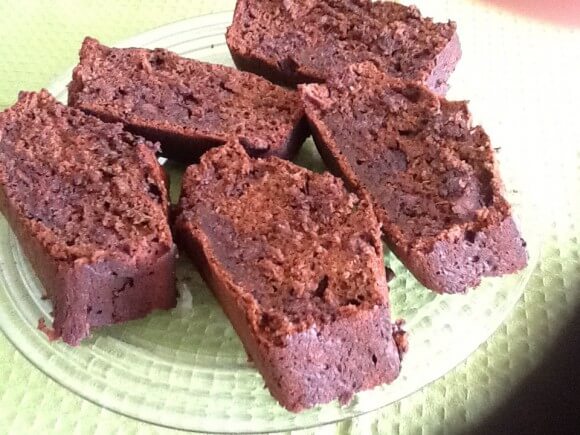 Back when I was working, I would watch The Today Show every morning. I would get the weather report so I knew how to dress. But more importantly, I would hear news stories – both serious and entertaining. This would give me topics to use as conversation when I met with clients, as not everyone wanted to only talk about reality television or what was in the dollar bins at Target.
I had to stop watching The Today Show, though. Despite being in marketing and media, I still fell victim to one of the classic promotional ploys – "Coming up after the break…". I almost always wanted to see the story that was coming up after the commercial break. So I would wait. And then sometimes wait through a second commercial break.
I would be late to work. So I had to give it up. I considered restarting watching when I became a SAHM, as I had no where to be late too, but then I discovered Tabatha Takes Over was on at the same time. And since I no longer needed to make polite conversation with people, Tabatha obviously won. I loved it when she recoiled when people tried to hug her.
Now I get most of my news from links that people post on Facebook. Which means I read a lot of Huffington Post and Upworthy. Every now and then something from People of New York. Buzz Feed is pretty popular too.
I also have the USA Today app on my Ipad. I initially got it so I could do the daily crossword, but then I saw that their Life section was pretty good. And now, I even peruse the News page. Its like I'm maturing.
Which is how I saw the article yesterday about dessert consumption declining (alright, I guess I am not maturing that much as this was pretty much the only story I read). It said only 12% of people regularly eat dessert.
I am shocked that the number is so low. According to the article, it has nothing to do with being healthy or saving money. It is just about not wanting to put thought and effort into it.
And that is ridiculous. How is hard to think about chocolate? Ice cream? Deliciousness? Maybe they are to busy watching the news, getting bogged down with seriousness.
Help me save dessert, people! And I will help you by providing an easy recipe to a delicious treat, so that you don't have to think about what to have. I will even make it a healthy one, to ease you into this.
I bring you Triple Chocolate Zucchini Bread. I found this recipe on tablespoon.com, since I had some leftover zucchini that I needed to use. And since we are proudly part of the 12% that has dessert daily, I do like to make it as healthy as possible.
And even though the zucchini seems like it will be obvious, it really isn't. Averi has no clue I'm sneaking in an extra serving of vegetables. The three types of chocolate make sure of that. Plus shredding the zucchini thinly.
In the original recipe, the three types of chocolate are supposed to be cocoa powder, dark chocolate chunks and semisweet chocolate chips. Amazingly I had the dark chocolate, but did not have semisweet. So instead I broke up a milk chocolate Hershey bar that I had on hand.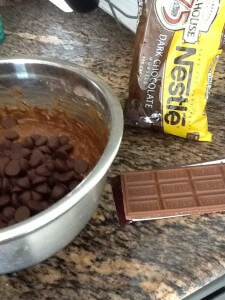 The bread wasn't as rich as it would have probably been with the semisweet, but it was still delicious, with a lot of depth. Moist, with nice bursts of chocolate when you get a bite of the chunks. Chunks even bursting out of the top of it.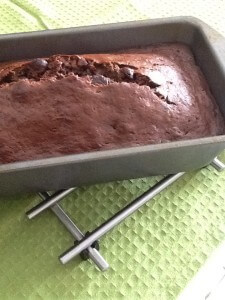 So much as Tabatha helped save failing, dirty salons, you need to help save dessert! I will be back sometime in the near future to check on you and how you are doing. 🙂
Triple Chocolate Zucchini Bread
1 1/3 cup flour
1/3 cup cocoa powder
½ tsp salt
½ tsp baking soda
½ tsp baking powder
½ cup vegetable oil
½ cup dark brown sugar
1/3 cup honey
2 large eggs
1 tsp vanilla extract
2 cups shredded zucchini, squeezed to have moisture removed
½ cup dark chocolate morsels
½ cup semi sweet or milk chocolate, depending on preference
Preheat oven to 350.
Combine first five ingredients (all the dry ones), in a bowl.
Combine next five ingredients (oil through vanilla), in a second bowl.
Stir dry ingredients into wet, thoroughly combining. Then add in zucchini and chocolate.
Pour batter into greased bread pan. Bake for approximately 50 minutes, or until toothpick comes out clean.
Let bread cool for 5 minutes in pan, then invert onto rack to cool completely. Wrap and store for up to one week in fridge.