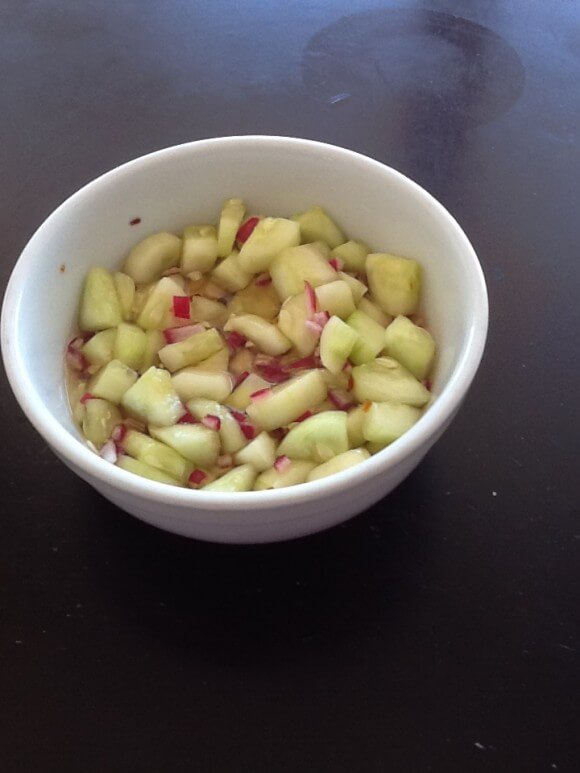 Are you ready for this, people? I may actually be Miami Level Trophy Wife. "What?!", you say. "I know!!", I say back.
Last night I had a girls night out. And it was awesome. Five of us went out to the Wynwood District, which for you non Miami Level Trophy Wives (yup, there is a distinct possibility this has already gone to my head), is the hipster art district area in Miami.
We started off with dinner at this delicious restaurant called Joeys. We shared everything, while talking about how glad we were to be out with people who actually ate. One girl admitted she had planned on ordering a salad, as she assumed that was what we would all order. She was very happy when someone mentioned pizza. And the pizza was incredible. You can expect me to try to recreate one of them – it had figs, Gorgonzola, honey and hot peppers on it. DIVINE. We also shared one of the special appetizers. It had mussels, baby octopus and olives. Insanely good. AAaanndd, we might have also shared another appetizer, another pizza and a fancy salad. We were just so excited to be with people who ate.
After dinner we decided to go to a bar in the area that a couple of us had been to and loved. It's called Lagniappe and it's described as a hipster meets bohemian place. There is a small indoor space where there is live music. But it's the outside that makes the place. It's basically like a college kids rented house backyard. Dirt floor, twinkle lights, and a ton of mismatched tables and chairs that constantly get shifted around as people try to find room for their groups.
And this is where I became Miami Level Trophy Wife. Three of the girls went to get drinks and myself and another girl went to find seats. There were none. We ended up standing in the back corner trying to figure out what to do. A very nice security guard came up to us to ask if we were okay. We said yes, just trying to find place to sit. He told us good luck. I said that there were two tables up front that were empty but this huge group had their stuff all over while they stood around. I suggested that he kick them out of the tables so we could use. He said they may be saving for friends who would come later. I said "yes, but we are here now".
Then I smiled and followed my friends to make another circuit to see if anyone was leaving. No one was so we ended up standing in the front, awkwardly wedged between tables. And then it happened. The security guard reappeared, directing an employee who was bringing a table for us!
The employee put the table down and proceeded to get supplies to clean it for us! We were thrilled. My friend the security guard was not. He knew he could do better than the awkward location we were in. He went to this great spot in the front corner and made two tables get up, and move their tables around, so that there was room for us! Then he had the employee move the table to our new spot and get us chairs!
I tried to get photos of the table being cleaned and the people having to move to make room for us, but I was being very discreet as I didn't want to seem douchy. And I was so discreet that the photos turned out like crap. But here is a little proof that this didn't just happen in my mind. The first photo is of the people standing while their table is being moved. 🙂
My friends kept asking me what I had said to the security guard to get him to do all that for us. I told them I hadn't said anything. I wasn't even showing cleavage! I asked the employee if I was having a good hair day and he just laughed and told me I looked nice.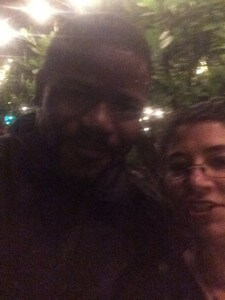 We gave the security guard a tip which I hope was enough, and I took a pic with him, and then my friends and I proceeded to spend a lovely hour there. Where I felt like I needed to drink a lot to justify all the trouble the security guard went to. I didn't do it, but I felt it.
And I'm not going to lie, it was a major ego boost. And it has inspired me to maybe not be a total sloth. So, I'm preparing a healthy snack for the week, in hopes that it will stop me from eating all the Girl Scout cookies that are still in our house.
I've actually made these sweet and spicy cucumbers from Our Best Bites, before. And, as I am now Miami Level Trophy Wife (or at least for this weekend I'm going to pretend I am), I even had all the ingredients on hand. I even had the perfect size colander for draining the cucumbers. Score!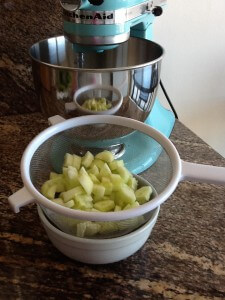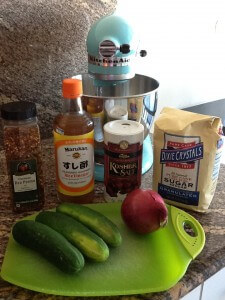 Let the delicious, healthy eating begin. And then we will go out and get prime seats at a bar. I may even show cleavage. 😉
Sweet and Spicy Cucumbers
3 medium cucumbers, peeled and cut into bite size pieces
2 tsp kosher salt
1/2 cup rice vinegar, regular or seasoned
1/2 cup water
3 tbs sugar
1/4 tsp red pepper flakes
2 tbs minced red onion
Place cucumbers in a colander over a bowl, sprinkle with salt and toss well. Refrigerate for an hour, occasionally tossing.
Prepare marinade during this time. Combine all remaining ingredients, except red onion, in a small pot. Heat over high, bringing to a boil. Reduce heat and let cook until reduced down to approximately 1/3 cup. This should be around 10 minutes.
Once reduced, remove from heat and add in red onions. Let cool.
When cucumbers are done, dry them with towel to remove any lingering moisture. Add them to red onion mixture. Refrigerate until cold, then enjoy.