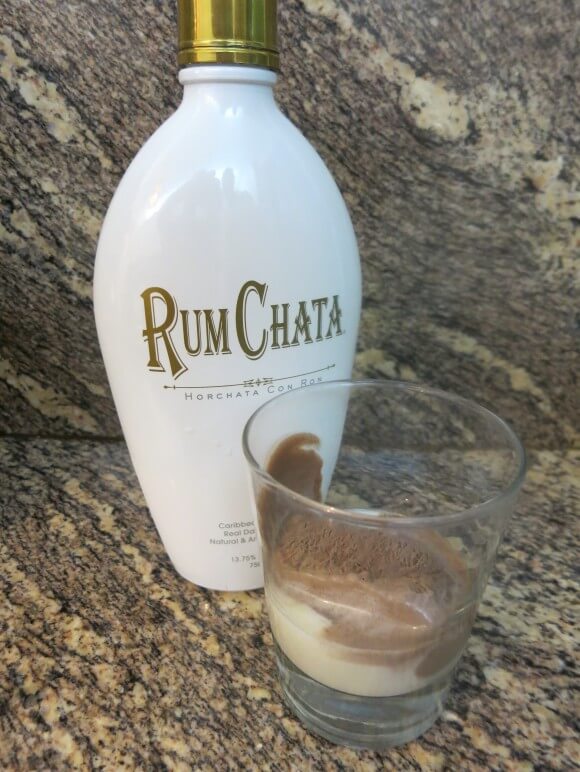 Have you ever heard of geocaching? It's basically like going on a treasure hunt. You get coordinates for a cache, and then use gps to guide you to those coordinates. Once you are in the area you look for something doesn't fit in – a huge pile of rocks at the base of a tree, or a canister with a magnet that is attaching the canister to a park bench, for example.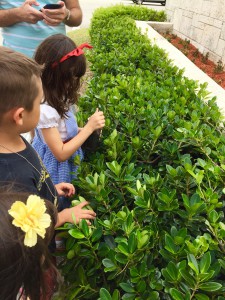 If you look closely at Averi's hands, you can see a canister that is tied to a rope. This cache was hanging in a bush.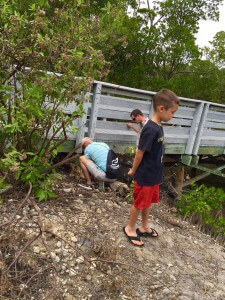 This was a cache that was a waterproof container, tucked behind the bridge post.
Once you have found the cache you open it up. There will always be a log in it, which you sign to show you found it. Sometimes there are little prizes in it, which makes Averi extremely happy. We always bring toys (great way to use stuff from party goody bags) with us to swap for the "treasure" Averi takes.
You find the caches and coordinates at geocaching.com. You can also sign up there, so you can officially log your finds, leave comments, or even create a cache of your own. Michael and I had always planned to create caches in Tucson at all of our favorite restaurants. One cache per cuisine style. Shish Kebab House for Middle Eastern. Casa del Rio for Mexican. Mama Louisa's for Italian. Beyond Bread for sandwiches.
Now I really want a Joel's Jolt on green chile bread with a chocolate chip cookie. I wish they delivered. To Miami.
But they don't, so back to topic on hand. Michael and I started geocaching around ten years ago. Since I don't clean, we had a lot of free time on weekends. And geocaching is a great way to fill that time. For starters, it's practically free. If you go to the website and look up caches before you head out, there is no cost. There is also an app you can download to your phone. That gives you limited caches, for the area you are actually in at that monument, for free. If you want all caches in that area, or to see outside that area, it's only $30 for the year. The app also provides the gps, directions, regardless of whether you've paid or not, so you need no equipment other than a charged phone.
The other reason geocaching is a great activity is because it gets you outside, and often to areas you would never see otherwise, especially when you are in a city you aren't familiar with. In addition to geocaching in Tucson, we have used it as a way to explore non tourist areas in Las Vegas, Chicago, St. Louis, San Diego, New Orleans, Paris, Brugge and Amsterdam.
We are now starting to geocache in Miami. So last weekend we invited some friends to join us for an afternoon of hunting in the gorgeous Anne Kolb Nature Reserve Park. This park is barely 30 minutes away, in Hollywood, and yet we hadn't been there yet. And that is sad because it is awesome. Right on the water, with gorgeous bridges and trails.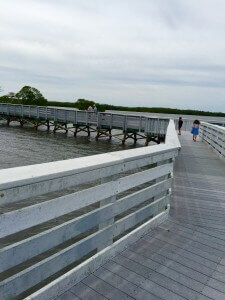 There were three caches on this great, long bridge. Including one at the very end, in a gazebo on the water. Heaven.
We spent a fun afternoon there, finding four or five caches, and then decided to hit the Hollywood Beach Boardwalk for dinner. Specifically, the really good Taco Shack. Which for some reason, is decorated almost solely with kitschy signage for Rum Chata. Including one for root beer Rum Chata floats.
Now, if you don't know, Rum Chata is a delicious cream based rum liquor. Think Horchata (a Mexican rice based drink flavored with cinnamon), but with alcohol.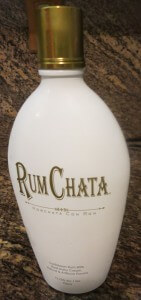 So while a root beer Rum Chata float did not sound appealing to me, I kept thinking about having a chocolate ice cream Rum Chata float. In my mind it would be a creamy, cinnamon, chocolate flavored delight, with a kick. What is not to love about that?
Which is why when a friend told me she was going to Total Wine yesterday, I immediately asked if she would mind picking me up a bottle of Rum Chata. And then I went and got the chocolate ice cream.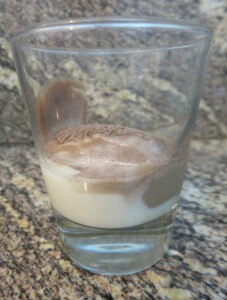 And now I have a new favorite dessert. It was exactly how I thought it would be, but better. The cinnamon flavor really came through, perfectly complimenting the chocolate ice cream. And the creaminess of the ice cream, combined with the creaminess of the drink, made it very smooth. I let the ice cream melt and it was one of the richest, creamiest, most flavorful shakes I have ever had.
So, thank you geocaching. Without you, I may not have thought of this.
Chocolate Ice Cream Rum Chata Float/Shake
Two scoops of good quality chocolate ice cream. I used Bryers.
½ cup Rum Chata
To make a float, combine ingredients in a cup, then enjoy.
To make a shake, combine ingredients in a cup. Let ice cream melt and then stir to combine.