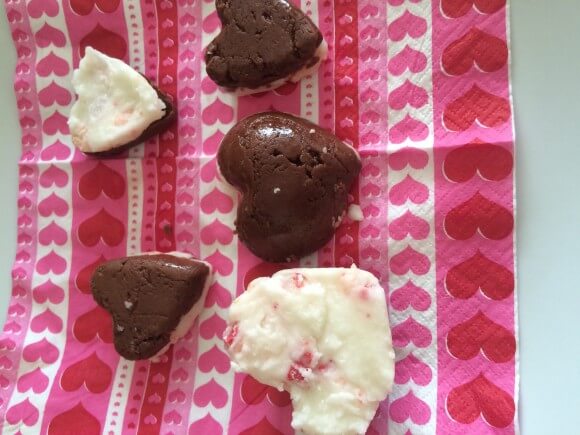 I wrote the other day about how Averi threw a tantrum (read here), so we didn't make the peppermint chocolate fudge. It has now been made and I am not only thrilled with it, but I'm also thrilled (if I may pat my own back for a minute) with how we parent.
Because I have seen some out of control parents this past week. It started on Friday, at school. I've discussed on numerous occasions the craziness that is pickup, and how a lot of people think they are above the rules. One mom, who has caused numerous problems over the past two years, got her turn to drive into the pick up area. And instead of pulling all the way forward, she stopped where it was most convenient for her, there by stopping other cars from pulling in. Then, as if that wasn't enough, she got out of her car. If you do school pick up, I'm sure you just gasped because you know how incredibly wrong that is.
Which was pointed out to her by a teacher, who asked her to get back in her car and pull forward. Mom said no. Teacher asked again. Mom starts screaming and doing big hand gestures and threatening to hit the teacher. So then the male vice principal gets in between them and tells mom that she can't threaten a teacher, and she needs to get back in her car. So the mom did. Just kidding! The mom yelled some more and shoved the VP so she could try to hit the teacher. Luckily she didn't succeed. I was told the school is looking into having her banned, but who knows. All because the crazy mom felt that she shouldn't have to follow rules and basic manners.
Then there was last night. Averi and I met some friends at the park for food truck night. As part of the night they set up jumping castles. There is a small one for little kids and then a bigger one with a slide for bigger kids. So of course last night grandma took her little grandchild who can't even stand on her own into the big bounce house. Where a huge brat of an older child stopped picking on Averi in order to start picking on this little kid. And by picking on the kid I mean launching himself at her and clawing her face. So grandma swats boy on butt and tells him to knock it off. At which point you realize the dad of the boy is standing there, because he goes berserk and starts screaming at grandma for hitting his kid. Grandma gets out and is joined by mom, and they try to explain to the dad that his son was hurting their kid. Dad is screaming how it's their fault cause they shouldn't have the little kid in there. Ladies are screaming back how they can do whatever they want. Again, crazy entitled parents all around.
It is then capped off by this story that a friend told me about. Apparently a mom was upset her kid came out late from school. PTA president explains he was slow getting ready. Mom makes the obvious jump in reasoning that the lady is calling her kid stupid. So she demands the lady be "fired" from her volunteer position with PTA. School says no. So the mom, joined by the dad, spend a year fighting with the lady and the school. When they don't get the results they want the do the totally rational and sane move of planting pot in PTA ladies car and calling cops! They got caught, thankfully. But come on! This is just all beyond insane.
The parents who think rules don't apply to them or their kids, that always need to be right and treated special, are insane. I hope they all end up getting banned from schools and other public places.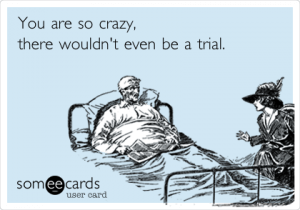 And if you have a good crazy parent story to tell, please share. Michael is still gone and I need something to entertain me while I eat the fudge. 🙂
Peppermint Chocolate Fudge
Chocolate Layer
2 oz cream cheese, softened
2 cups confectioners sugar
3 tbsp baking cocoa
1/2 tsp milk
1/2 tsp vanilla
Peppermint Layer
2 oz cream cheese, softened
2 cups confectioners sugar
1/2 tsp milk
1/2 tsp peppermint extract
1/4 cup crushed peppermint candy
In mixing bowl, beat cream cheese. Gradually beat in all remaining ingredients in chocolate layer. Spread into mold of your choice, or into a baking pan. If use baking pan, line with tin foil and grease with butter. Chill in refrigerator for one hour.
Once chocolate layer is set, prepare peppermint layer. Beat cream cheese in mixing bowl. Gradually beat in sugar, milk and peppermint extract. Once combined stir in the peppermint candy. Spread over chocolate layer and chill for another hour. Then enjoy!