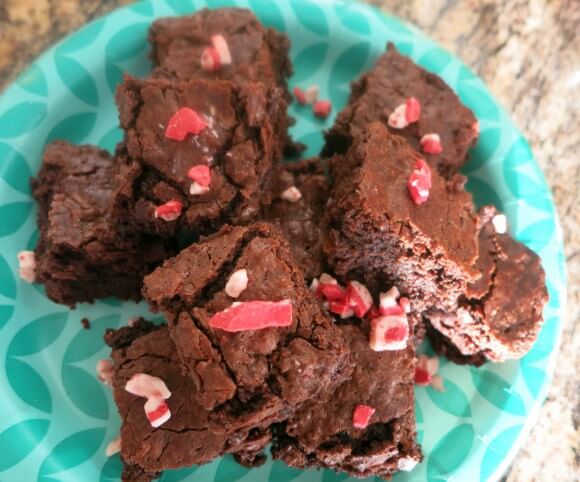 So in my last entry I mentioned how parking in Miami, including at our building, is always at a premium. I have been told that our building has exactly spot one per unit. I've never counted the spots to verify, but I believe them.
So each condo has one spot that "belongs" to the owner, and that is where you have to park. We have the worst spot in the whole building.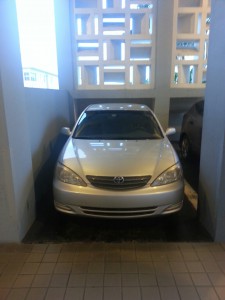 As you can see, if you are facing the spot, there is a wall on the left side and a column on the right. So you have to back into the spot, otherwise the drivers side is next to the wall and you won't be able to open the door to get out. Of course, when the SUV is parked in the spot next to ours, it's still a challenge to get in and out.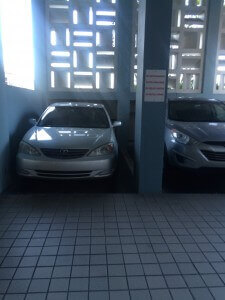 As if the wall and the column and the other car isn't enough of a challenge, there is also the fact that our spot is in the front of the building. Which means two things. 1) very limited space available to do the backing in with, which means you have to approach the spot at an angle. 2) there are constantly cars coming and going in that area, so chances are good a car or two will be waiting while you move back and forth trying to position the car.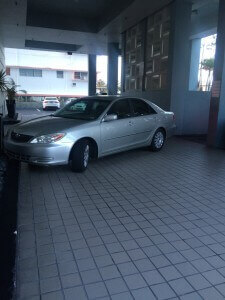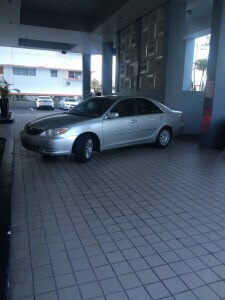 To me, with my poor depth precision and horrible parking skills, that spot is to much pressure. I can't use it. Although, in my defense, the valet told us that all previous tenants have refused to use it. Michael is the first. All hail Michael, King of Parking!
So, with no parking spot for me, I would park on the street during the day, then when I was in for the night, I would valet my car. But the whole situation sucked. I would decide on groceries not on what was on sale or even on what we needed, but on what I could carry in or leave in car till I was ready to valet. I always had to have cash on me to give the valet. And there were a couple of times when there were no spots, because again, one per condo and in season more owners are here. Did I mention the parking sucked?
Finally I was able to sublease a spot from someone who was leaving for a few months. It was glorious. I could come and go as I pleased. I started buying watermelons and other heavy groceries again. Cause I could. 😉
To ensure that the parking gods (ie, the valets who control the empty spots) continue to bless me, I like to give them baked goods at least once a month. I have been remiss on this recently, so the other day I decided it was time to kiss butt.
I had half a bag of peppermint chips from Christmas that I wanted to use up. So I found a recipe on What's Gaby Cooking for Peppermint Cookie Brownies. Her recipe uses peppermint Oreos, which were apparently available at Christmas time. Somehow I missed out on this awesome limited time offer, so I did not have any. Although, let's be realistic, if I had found them, they would have been eaten as is, and would still not have been available for me to bake with five months later. 😉
But I did have the aforementioned peppermint chips. And I had chocolate graham crackers, to take the place of the cookie part of the Oreo.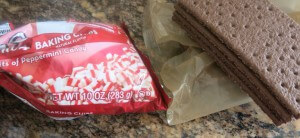 The graham crackers probably weren't necessary, but I wanted the texture they would provide to the brownie. And the extra chocolate. And I'm glad I did, because I think they stopped the brownie from being to fudgy. But if you like your brownies more fudge like then cake like, leave them out.
The peppermint flavor wasn't overwhelming, but was strong enough so that the chocolate wasn't to heavy. Which was why I was able to eat around three of them before I remembered they weren't for me. 😉
Peppermint Brownies
10 tbsp unsalted butter
1 1/4 cups sugar
3/4 cup unsweetened cocoa powder
1/2 tsp sea salt
2 tsp vanilla extract
2 large eggs
1/2 cup flour
1 cup peppermint chips
1 cup crushed chocolate graham crackers. Approximately 7 crackers
Preheat oven to 350.
Melt butter over medium heat, in medium sized sauce pan. Add sugar and cocoa powder. Stir to combine, then remove from heat.
Add salt, vanilla and eggs. Stir till completely combined. Add flour and combine. Add peppermint chips and graham crackers. Stir to combine.
Pour batter into a 9×9 baking pan that has been lined with tin foil and sprayed with baking spray.
Bake for 25 minutes, until cooked through. Cool and then enjoy!