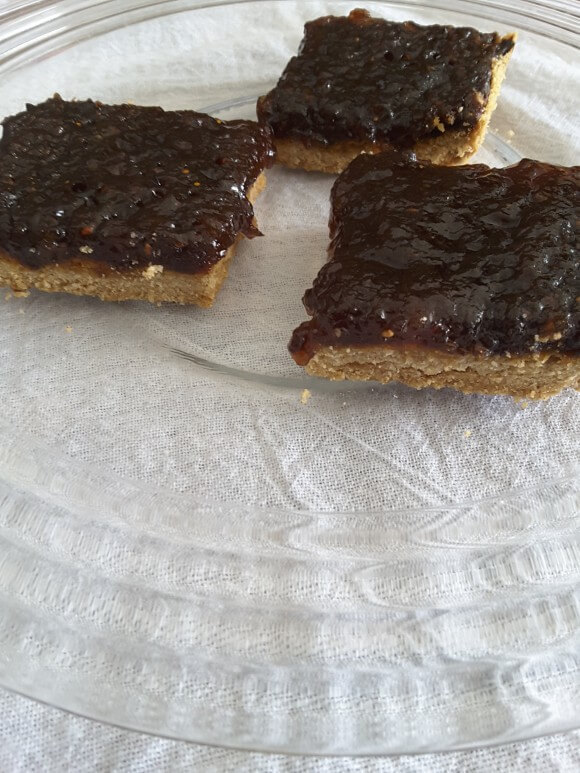 Did you know that today is Tu B'shevat? Yeah, neither did I. Until Averi came out of Hebrew School last week and informed me of it. She also showed me the post it note "card" that she had made for our next door neighbor to celebrate the holiday. She put in on her door last night or else I would show you a pic. 🙂
She has spent the all the days since Wednesday talking about Tu B'shevat. Specifically the food. Because she is my daughter and has her priorities straight. At Hebrew School they sampled dates, figs and olives as part of it. Because as you may also not know, Tu B'shevat marks the beginning of the "new year" for trees. Specifically trees in Israel that will begin to bear fruit. And in Israel they have fig, olive and date trees.
Averi kept asking if we could plant one of those trees here on the beach. Um, no. I did briefly toy with the idea of holding a special girl scout meeting at our garden plot to do something gardeney and holidayey today since there is no school, and a quarter of our troop is Jewish. But that required work and planning and I just wasn't interested in that.
I went the easy and obvious route instead – baking while Averi has a friend over to play with so she is easy to ignore. Plus, I had actually pulled a recipe for orange & fig bars a couple weeks before so this was meant to be.
The recipe came from an old issue of Family Circle. They are hard core and make the fig topping themselves by boiling down figs, orange juice and honey, plus some sugar. I am not hard core, and used a jar of fig butter that I had bought at Trader Joes and really wanted to use (hence the pulling of the recipe a couple weeks ago).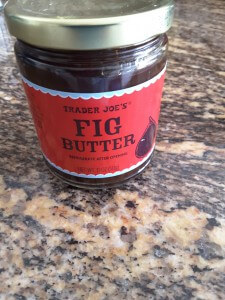 The only problem is that when I started to spread the fig butter I immediately could tell it wouldn't cover the pastry layer. In fact it barely covered half. Luckily I had a jar of FROG jelly – Fig, Raspberry, Orange and Ginger that I had picked up when we were in Georgia a couple weeks ago. And this was awesome because I had checked the ingredients of my fig butter and it didn't have orange in it, and I really wanted some orange essence. And you can see the orange zest in the FROG jelly.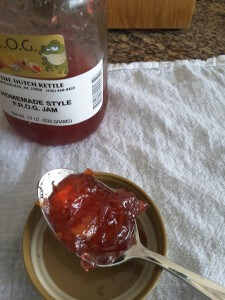 So I scooped some of the FROG jelly on top of the fig butter and mixed them together to completely cover the pastry level. And speaking of the pastry level, don't be concerned when it still looks like loose flour after you combine it with the butter.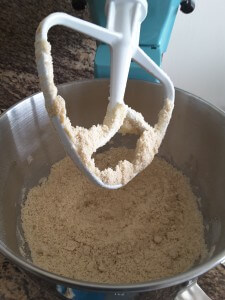 It isn't actually dry, so when you pat it down into the baking pan it will mush together and not fall apart on you. 🙂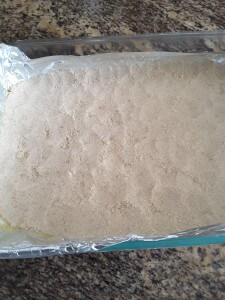 It turned out great. The pastry is moist and butter and the perfect balance to the fig topping. The topping had great fig flavor and the orange zest really did kick it up a notch. Make sure to use the orange zest! And then enjoy!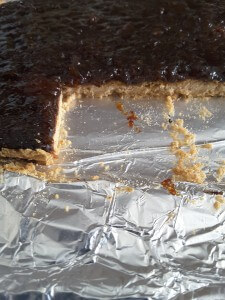 Orange Fig Bars
2 cups flour
1/2 tsp baking powder
1/2 tsp cinnamon
1/4 tsp salt
1/2 cup unsalted butter, softened
1/2 cup sugar
1 tsp vanilla
22 oz of fig butter*
orange zest from one orange*
Preheat oven to 350. Line 13×9 baking pan with aluminum foil.
In small bowl, combine flour, baking powder, cinnamon and salt.
In mixing bowl combine butter and sugar. Mix until fluffy. Add vanilla. Slowly add flour mixture and beat on low until combined. As noted above, the batter will look like dry flour but this is okay. Press it firmly into the baking pan and it will adhere together.
Pour fig butter over the pasty layer. Sprinkle with orange zest.
Bake for 25-30 minutes until the butter is set. Enjoy!
*If you are lucky enough to find FROG jelly, you can use just 11 ounces of fig butter and mix with one cup of FROG jelly. You can also omit the orange zest.