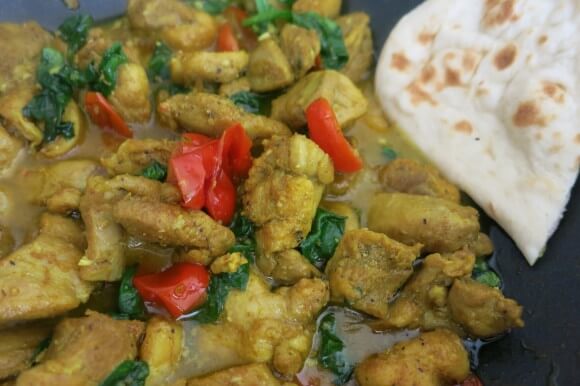 As I've possibly mentioned, I do not live near a Trader Joes. The closest one is around a hour away. Living without their chocolate covered sea salt butterscotch's is rough. So when I do go on a field trip there I have a tendency to stock up. Then I have a tendency to hoard what I bought, wanting to save it for a special occasion. Like it's a $100 bottle of wine. Sorry. Miami Level Trophy Wives would probably say a $500 bottle of wine. 😉
So I still have a pantry and freezer filled with delicious Trader Joes foods. But as I also might have previously mentioned, Averi and I are leaving for Tucson two weeks from today! And we will be there for three weeks! So I need to start working my way through my stockpile so that there is room for the staples that Michael will want to have on hand when he's cooking for himself – bratwurst and sauerkraut. 😉
Tonight I decided to use three items from my cache – frozen naan, a box of madras lentils and a box of Punjab Choley (a delicious blend of chickpeas, tomatoes and onions).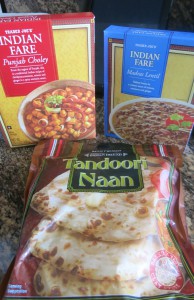 Which means I needed a protein that would go with this Indian feast.
I remembered a chicken dish that I had made a couple months ago – a skillet Sazon chicken that I found on Skinnytaste. Skinnytaste recommends serving with avocado or in fajitas. However, I feel that it has an Indian flavor to it – maybe because I substituted turmeric in the Sazon seasoning blend for the achiote. Or maybe because I added spinach to the chicken dish (okay, I know it's not this, but I wanted to mention this second change I make). Either way, it was the perfect accompaniment to our Trader Joes delights.
And the bottle of Villa Alena Moscato that I also got from Trader Joes was a perfect accompaniment to all of it. 😉
One Pot Yummy, Yummy (Indian) Chicken*
Sazon seasoning (recipe below)
1 lb chicken, cut into bite size pieces
2 tbsp olive oil, divided
1 tbsp minced garlic
Dash of salt
1 tomato, diced
1/3 cup chicken broth
1 bag of spinach
Rub Sazon seasoning into chicken pieces, covering thoroughly.
Heat 1 tbsp oil in sauce pan. Add chicken, cook thoroughly. Remove chicken from pan, keep warm.
Add remaining tbsp of oil to pan, and heat. Add minced garlic, and cook for 1-3 minutes, till browned. Add tomatoes and dash of salt. Cook for approximately five minutes, till tomatoes have softened. Add chicken and broth to pan, cooking till heated through. Add in spinach, cooking till wilted down.
Serving suggestions include over rice or with any delicious prepared side dishes from Trader Joes. And of course, naan.
Sazon Seasoning
1 1/2 tsp EACH of ground coriander, ground cumin, turmeric, garlic powder and kosher salt
1 tsp oregano
1/2 tsp black pepper
Combine all ingredients.
* this dish was named by Averi, who had three servings of the chicken and said it's the yummiest chicken ever