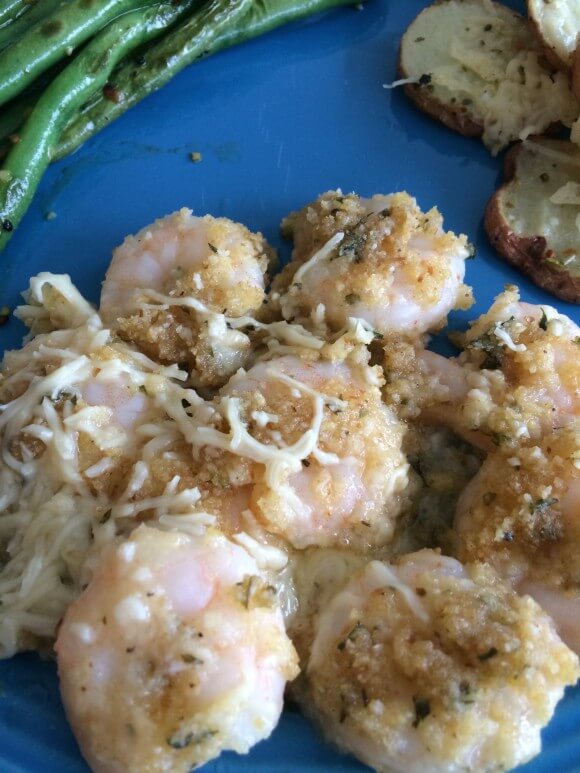 So you know how I talk a lot about the problems with parking here? How a lot of condos (like mine) don't have enough spots? Or they have to stack the cars, which then means it may take a while to get your car? And of course, there is the problem I haven't mentioned (mainly cause it will never be my problem), of entrusting your ridiculously expensive car with some young valet who probably doesn't even wear driving gloves and will leave their butt imprint on your soft as butter leather.
Thankfully, Porsche has come up with a solution for all these problems AND given vain car owners a chance to truly showcase their cars. By building the Porsche Design Tower, where you can drive your car onto the elevator, and then park your car in your condo.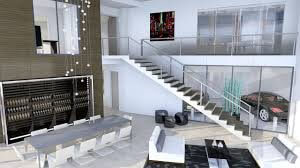 And of course, the elevator is made of glass so you can enjoy gorgeous beach views as you go to your deluxe apartment in the sky.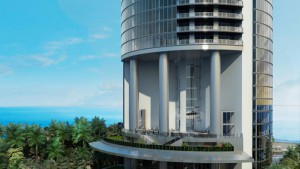 Do you see the little car in this drawing?
Let me repeat this. Better yet, let me just cut and paste the information from their website:
"Enjoy oceanfront view as you ascend in a glass elevator to your private residence, while you are sitting in your car. Porsche Design Group and South Florida developer, Gil Dezer will develop $560 million residential tower in Sunny Isles Beach. It will be one of the world's first condominiums where elevators take residents directly to their private apartments while they are sitting in their cars.
​ Porsche Design Tower will be erected in 2016 on 2.2 acres of beachfront land at Collins Avenue in Sunny Isles Beach. The 57-story luxury tower will have 132 units – 3,800 to 9,500 square feet with range in price from $4 million to over $15 million. Each residence will have at least two parking spaces, large residences will have four, with 284 robotic parking spaces in total. There will be three elevators.
Residents will be able to see their fancy cars and antiques from their living rooms.Gorgeous Sunny Isles condo with oceanfront views."
​Also according to the website, in addition to parking your car in your unit, you can enjoy the following amenities:
"The Abundant Amenities at The Mansions range from luxurious conveniences to surprising extravagances.
3-story high lobby with glass car elevator observatory in center of lobby

Lobby level restaurant overlooking the ocean with indoor and outdoor seating.

Private enclosed wine locker for each unit located within the restaurant.

Lobby level Bar & Lounge overlooking the ocean with monumental fireplace and big screen TV's

1 oceanfront pool located on first floor landscaped deck with food & beverage service.

2 oversize plunge spas located at the 5th floor west side Sunset Deck overlooking the Intracoastal Waterways.

Game room & Ball Room with elevated ceilings, located on 5th floor (NE Section):

Virtual Golf Simulator.

4-car interconnected virtual race simulator.

Movie theater with stadium seating, popcorn bar and surround sound.

Card table and billiard area.

Oceanfront ballroom equipped with Bar & catering kitchen.

Oceanfront fitness room equipped with state-of-the art machines and oceanfront yoga room.

Oceanfront Hair saloon with manicure and pedicure stations.

Men & Woman's spa equipped with snow room, sauna and steam rooms.

Locker room area with bathrooms and showers.

Unisex treatment rooms: Massage, facial & Vichy shower.

Sunset Terrace (located on 6th Floor – W section)

Two oversize plunge spas.

Outdoor seating/sunbathing deck for afternoon sun and watching sunsets.

Additional tanning deck one level below that connects with the Spa."
All of this can be yours for the bargain starting price of $6.2 million. But if you don't want to be the poor neighbor, then you should consider getting one of the units that starts closer to $15 million. Although personally, I don't see a point unless you have the penthouse.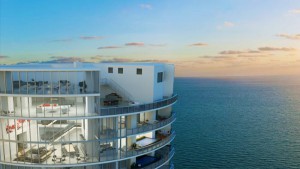 Because two private pools are necessary. Only $34.5 million. And probably a few thousand a month in maintenance costs. But that's just pocket change. Not even worth mentioning. Which would explain why I can't find it. And I looked. Because inquiring minds what to know (another reference Averi won't know).
I wonder if an Arizona Level Trophy Wife can get a tour. Think you have to show bank statements to prove eligibility so they aren't wasting their time? I'd like to see their "summer kitchens". The dinner I made tonight would have been fantastic prepared outside (by my cook) and then eaten on one of the numerous balconies (served and then cleaned up by the maid. Who lives there, because these units all come with maid quarters).
I made Italian Parmesan Shrimp. Shrimp was buy one get one free. It's deals like that that will enable me to live large. 😉
This recipe is from Normal Cooking. I've made it before and love it because 1) minimal effort and 2) prep and cooking can all be done in under 25 minutes, making it great for weekday nights. And this matters, since I currently do not have a cook. Or a maid. 😉
The original recipe is very straightforward, and I only made two changes to it. The first change involves the Panko bread crumbs. The original recipe just says bread crumbs. But I have both Italian and Mediterranean bread crumbs, plus regular. I like to use whichever flavor complements the side dish I will be making. Tonight was Parmesan Potatoes (recipe coming), so I went with the Italian bread crumbs tonight .
The second change was to add Parmesan cheese. Because it's cheese. And until I can drive my car into my living room, I have to enjoy the small indulgences that are available to me. 😉 I added grated parmesan to the breaded topping, and shredded to the top right before it was done.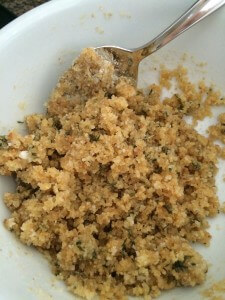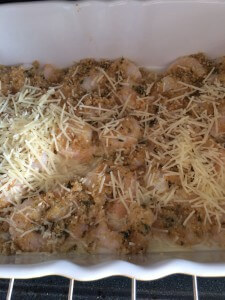 Italian Parmesan Shrimp
1 lb shrimp, peeled and deveined, with tails off
3 tbsp minced garlic
2 tbsp white wine
1/2 tsp pepper
1/2 tsp salt
4 tbsp butter, melted
1/2 cup Italian Breadcrumbs (or the breadcrumb of your choice)
2 tbsp parsley
1/2 cup grated Parmesan
1/2 cup shredded Parmesan
Preheat oven to 425.
Combine shrimp, garlic, wine, salt and pepper in a bowl. Mix to combine. Spread onto baking sheet.
In small bowl combine all remaining ingredients, except the SHREDDED Parmesan. Spread the topping onto the shrimp, making sure to evenly distribute.
Bake for 15 minutes. Remove from oven and top with shredded Parmesan. Bake an additional five minutes, until cheese all melted and shrimp are pink.
Enjoy!