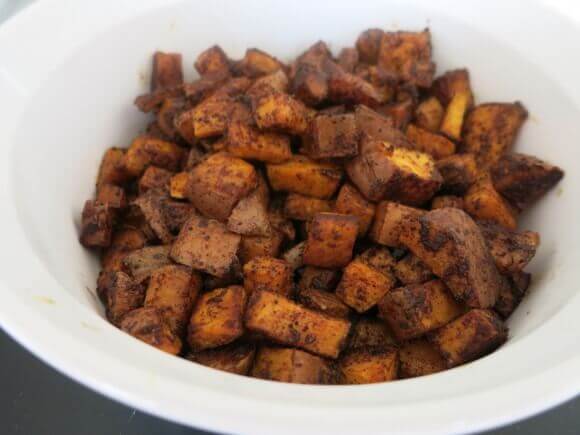 I am not sure why I decided to do a blog that focuses on cooking, when as a Trophy Wife (even an Arizona Level one), I don't actually cook that much. Remember the entry I did on Monday , for Mexican Chicken Noodle Soup? Yup, that entry, from seven days ago. I haven't cooked dinner since then. We had leftovers of the soup a couple of times, dinner out once, leftovers from the dinner out. Oh! I lied. I did make dinner one night. It was all rainy and stormy, so I felt like we need some good comfort food for dinner, so I made bacon and eggs. That counts as making dinner, right? I just doubled my numbers! Yeah me!
But Michael is about to go out of town again, so I figured he deserved a good, home cooked meal before he left. And I had two sweet potatoes that I had bought on a whim, that I needed to use. So dinner it was!
I made Parmesan Tilapia, sautéed green beans with garlic, and Oven Roasted Cinnamon Chile Sweet Potatoes.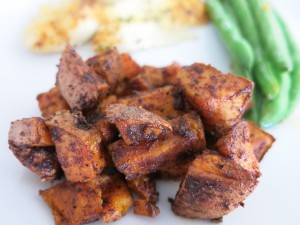 I found the recipe on Cinnamon Spice and Everything Nice. Her original recipe uses sweet potatoes and white potatoes, but I've made the recipe before and really preferred the sweet potatoes over the regular potatoes, so I only use sweet. Otherwise I keep the recipe the same, as all the spices used are pantry staples for me so I have them all. Which is another reason why I love this recipe. That and the fact that the sweet potatoes come out really soft, but not mushy, and the cayenne and paprika add some nice heat to it. You can tone down the amount of these added if you want, to make milder.
So, I made this great dinner. And I even got fancy and served it with baked bread and this incredible French butter with sea salt that a friend told me about (make sure to serve at room temp).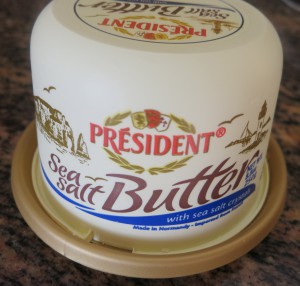 And that's when it happened. Averi asked for bread and butter. And then repeated the word "butter". So Michael naturally said "Parkay". And then Averi said "what's Parkay?" What's Parkay?!
It saddened me that she didn't know. And that I had to add to my mental list of things Averi does not know. I started the list when one night Averi said to me "I believe". And then she stopped. So I obviously said "the children are our future". And instead of breaking into song with me, she said "children can't be the future. They are kids". And then we had to have a serious talk about what that meant and why it's important to raise kids with education and morals, when all I really wanted to do was get my Whitney on.
Other items that I've discussed with friends recently that Averi had to ask what they were include: Pepe Le Pew, Punky Brewster, Tang and candy cigarettes. I am just glad that you tube exists, so we can educate her on these important pieces of history. I am also very glad that Joseph Gordon-Levitt is producing a new Fraggle Rock (did you just sing "down in Fraggle rock!" In your head? I really hope so.) And when Averi gets older I will also be showing her Joseph Gordon-Levitt in 10 Things I Hate About You. Because that should not be on anyone's "not familiar" list. 😉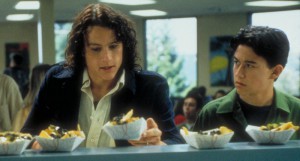 You're welcome for using a pic that has Heath Ledger in it. 🙂
So, make yourself some Oven Roasted Cinnamon Chile Sweet Potatoes and sit down to eat them and tell your kids where the beef is, what Willis is talking about, and how once you pop you can't stop.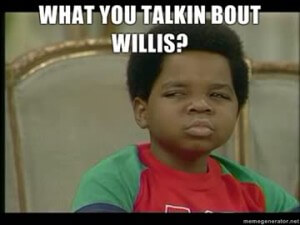 Oven Roasted Cinnamon Chile Sweet Potatoes
2 -3 sweet potatoes, cut into bite size pieces
2 tbsp olive oil
1 tbsp butter, melted
1 tsp Cinnamon
2 tsp Chile powder
1/2 tsp smoked paprika
1/2 tsp ground Cumin
1/4 tsp cayenne pepper
1 tsp kosher salt
1/8 tsp pepper
Preheat oven to 400.
Place sweet potatoes in mixing bowl. Add olive oil and butter, mixing to coat.
In small bowl, combine all remaining ingredients. Add to potatoes, mixing to coat all pieces.
Spread potatoes on a greased baking sheet, making sure all spread out. Bake for 25 minutes, till soft.
Enjoy!