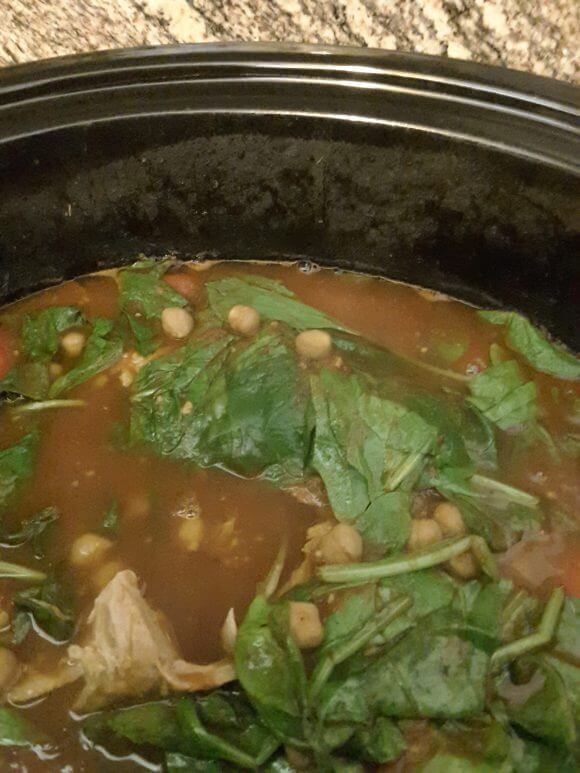 Long time no talky talky, clicky clacky. If you follow me on Facebook and/or Instagram (insert broken record of "and you should" here"), then you know that we went a traveling. It was two weeks long, filled with great sites and food. And SO. MUCH. WALKING. I actually lost five pounds from all the walking.
I planned on doing all kinds of cooking when we came back. I was going to explore the wonder that is dill, as Russians use a lot of dill in their cooking and it reminded me how much I love it. I was also going to try recreating this garlic dipping sauce that we had in Tallin, Estonia. We had ordered an appetizer of fried cheese balls and it came with the sauce. It was incredible. We used it not only on the balls but on pretty much everything they brought us – potatoes, the huge platter of meat, bread. It was so good that Averi turned to me and asked if I could recreate it at home.
Then we actually got home. As people do, I turned on my phone as soon as the plane touched ground after our TWELVE hour plane ride. Which we spent in coach (cause AZ Level) with nothing to do because I had been counting on the individual tv sets you get on international flights to entertain us. And they would have, if the sound had been working. 🙁
Anyways, I turn on my phone to see that Averi's school had lost the ac in half the classes and the cafeteria. Which means that the kids can't eat in the cafeteria. Which means that over 40 teachers needed to have their lunches covered so they could get a break and pee. And as avid readers, you know that I am in charge of lunch volunteers. Well, I earned my parking pass last week. I immediately sent an SOS out to the regular volunteers. I contacted the volunteer in charge of volunteers and the volunteer in charge of the newsletters. Then I managed all the texts, calls and email responses that came in. Because let me tell you, people stepped up. It was pretty impressive. We managed to cover 90% of the classes for the entire week. I got new volunteers, potentially made some new friends, and basically lived at the school and on my computer. Cooking did not happen, especially since Michael was still gone and Averi was thrilled with the meatballs I make and keep on hand in the freezer.
Thankfully that was last week. The ac was fixed mid-day on Monday, and the kids went back to the cafeteria. So I actually cooked once this week! Baby steps, you know. You can't just rush back into cooking every night after not cooking for a month. And since my baby steps are extra small, I used the crock pot, so I could just dump everything in. 🙂
The recipe was for Indian Chicken Stew in the crockpot. Except I didn't have chicken, I had a pork roast. I also didn't have the diced tomatoes the recipe called for, but I did have a can of crushed that were dangerously close to hitting their expiration date. I am not sure how I feel about the crushed, though. They definitely made the dish saucier, which is always a plus when you are serving over rice. Dry rice sucks. But, it also made the dish more tomato based then diced tomatoes would have, and caused the Indian spices to be more mellow. Of course, if I had realized that before I could have increased the Indian spices and then had the best of both worlds – strong Indian flavors and lots of sauce. So I think that is what I am going to go with in the directions. I will leave out adding the whole cherry tomatoes when you add the spinach. It added nothing to the dish. Probably should have cut them up, but honestly, don't think it would be worth the effort.
Because it is a great dish. The pork is tender and flavorful, the garbanzo beans add great texture, and the spinach ensure it is healthy and still one pot. 🙂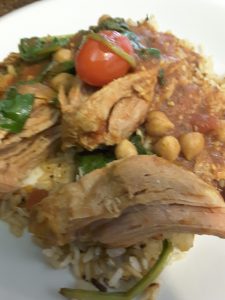 Sorry for the horrible picture. I am apparently out of practice.
Next week life will hopefully get back to normal and you shall see the dill and garlic then. And if you have any great dill recipes, feel free to send me. Gracias! Or as they say in Russian, spaseeba!
Ingredients
1 pound pork roast, or 1 lb boneless skinless chicken thighs
2 tbsp minced garlic
7 tsp curry powder
3 tsp ground ginger
1/2 tsp salt
1/4 tsp black pepper
1/2 tsp cayenne pepper
30 oz garbanzo beans, rinsed and drained
29 oz crushed tomatoes
1 cup veggie broth (or chicken if making chicken)
2 bay leafs
2 tbsp lime juice
1 bag spinach leafs
cooked rice
Instructions
Place pork (or chicken) and garlic in crock pot.
Add seasonings, coating the meat.
Add in beans, tomatoes, broth and bay leaf.
Cover and cook on low for 8-10 hours.
Stir in lime juice and spinach.
Let spinach wilt, 2-3 minutes.
Serve over cooked rice.
https://discoverph.com/indian-pork-stew-in-crockpot/