I know I should read more and watch less TV. Especially since the majority of the shows that I watch are totally low brow. This week has been MTV week – I caught up on Real World (worst season ever), Are You The One (some of these guys need to have a little pride) and The Challenge (great fights). As a forty year old woman (that's right, I have no problem saying – I am 40!), I shouldn't be watching these shows. Let alone spending the amount of time I spend on them. But here is the thing, I watch them on my iPad, which I can walk around with. So while I am watching I am also cooking, putting away laundry, paying bills, writing this blog, etc. In other words, I am getting shit done. Which helps counter balance the brain cells I am killing off by watching the shows. 🙂
When I read a book, especially a GREAT book, I get nothing done. I don't want to cook. I can't be on the computer. I just sit in a chair, and read. And eat. Which is why even though I leave for Tucson tomorrow and have a long list of stuff I need to do, including packing, I have accomplished nothing since last night. I didn't even log onto Facebook today until I had finished the book, at 11:45. And I didn't even realize that I hadn't been on until I finished the book. That's how good the book was.
I had started reading Promises to Keep, by Jane Green. Such a great book. Incredible characters, interesting plots, that one needed twist. And it made me cry. So many tears. And to top it off, it has recipes scattered throughout the book. I already plan on copying page 24 (tomato tarts with puff pastry), page 34 (spinach and chickpea coconut curry), 132 (spiced black bean fritters) and page 239 (tuna with cilantro lime sauce and avocado). When we get back from Tucson I will be making them. I'll let you know how they turn out.
Before I got involved in the book and began ignoring Averi, we made Dulce de Leche brownies.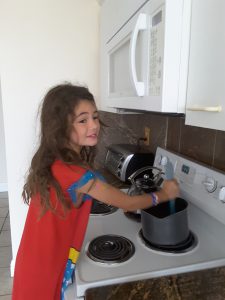 One last attempt at emptying the pantry! They are super rich, so only a small piece is needed. They go perfectly with salty tears, while reading. 🙂
I got the recipe from missinthekitchen, who in turn got it from someone else. For the most part I followed the recipe, although I did replace the finely chopped chocolate with chocolate chips. And I of course left the nuts out. Although I guess they would make the brownies less rich with their contrast. So, whatever floats your boat.
If you read the book, let me know. And if you have any good recommendations for other books, let me know that too.
Ingredients
1 stick unsalted butter (1/2 cup)
6 oz semi sweet chocolate chips
1/4 cup unsweetened cocoa powder
3 large eggs
1 cup sugar
1 tsp vanilla
1 cup flour
1 cup dulce de leche, divided*
Instructions
Preheat oven to 350.
Cut butter into small pieces and place in saucepan. Add chocolate chips and melt over low heat, stirring constantly. Once butter and chocolate is melted and smooth, remove from heat.
Add eggs, one at a time, stirring after each.
Add in sugar, vanilla, flour and if you are weird and want, nuts - walnuts or pecans.
Line an 8-inch baking pan with tin foil and then coat in baking spray.
Pour half the batter into the baking pan.
Drop 1/3 cup of the dulce de leche by the spoonful over the batter. Use a knife to swirl.
Repeat with remaining batter and dulce de leche. Make sure to swirl.
Bake for 40 minutes, or until set.
Notes
* If you are unable to find premade Dulce de Leche, click on the link I provided for original recipe and you will find a recipe there.
https://discoverph.com/dulce-de-leche-brownies/