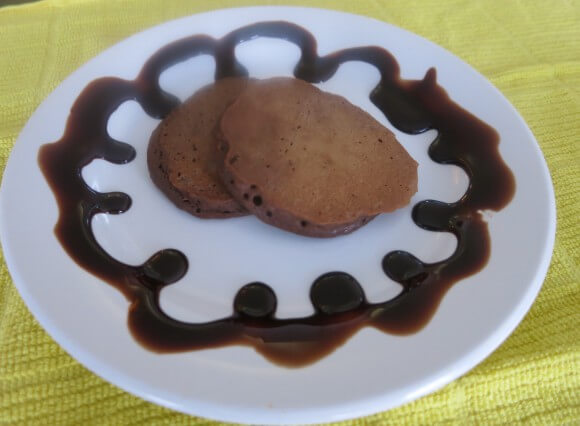 I know it's been a week since I last wrote. I hope you haven't missed me too much. 🙂 I do have a good excuse though. It's Spring Break. And in Miami that means a few days at Disneyworld, and then the rest of the week divided between the pool
and the beach with friends.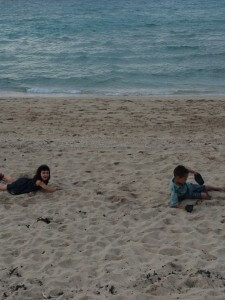 We have spent so much time outside I am no longer a white girl. I am now golden. Which is fitting for my Trophy Level Wife status. 🙂
As is Michael presenting me with Cinderella's glass slipper in front of the Coach used in the new movie. The photographer wouldn't take the picture unless I looked surprised, even though that I kept telling him that as a Trophy Wife I knew I deserved it and therefore wasn't surprised. I finally gave in and took the picture looking surprised, because we had a Frozen sing along to get to. 🙂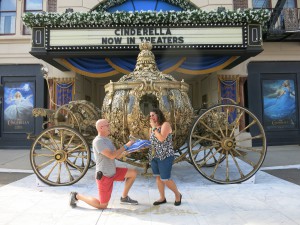 Spring Break does not mean cooking. Or sitting at a computer writing. But its coming up on end of month and bills are due, so here I am. Plus Averi has been begging me to make her pancakes, so I did that this morning as well.
Chocolate pancakes, to be specific, using a recipe I have from a May 2013 issue of Taste of Home. I didn't need to substitute anything as all the ingredients are pantry basics. The recipe did call for mini chocolate chips, though, which I didn't have. I considered putting in pieces from a chocolate bar I have instead, but then realized it was breakfast and the kid didn't need any more chocolate in the pancakes.
So I just omitted them from the batter.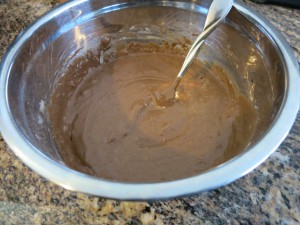 But to make up for it I did make heart and mickey mouse shaped pancakes. Try not to be intimidated by my artistry. 🙂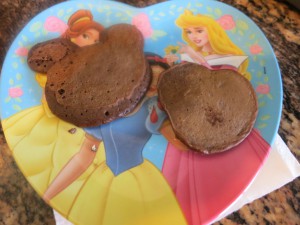 Averi ate five of them. Then I freeze the rest so that I have a quick, home made breakfast for her during the school week.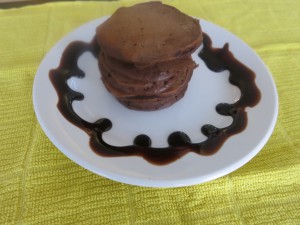 Now I have to go, friends are waiting for us on the beach. I have old issues of Entertainment Weekly to read while the kid plays. Plus I really need to finish The Husband's Secret by Liane Moriarty. It is incredible and I highly recommend you read it.
Chocolate Pancakes
1 ¼ cups flour
¼ cup sugar
¼ cup cocoa powder
3 tsp baking powder
½ tsp salt
1 cup milk
2 eggs
3 tbsp butter, melted
2 tsp vanilla
½ cup chocolate chips, if you want to really indulge
In a large bowl, combine the first five ingredients (all the dry). In a small bowl, combine all the remaining ingredients, except the optional chocolate chips.
Add the combined wet ingredients to the dry ingredients, stir in until moistened. Add in chocolate chips, if using.
Spray a griddle with cooking spray, and heat over medium heat. Spoon batter onto griddle. Cook until bubbles form on top, then flip over. Cook until lightly browned.
Syrup isn't needed, unless it's chocolate. Or serve with whipped cream or powdered sugar.