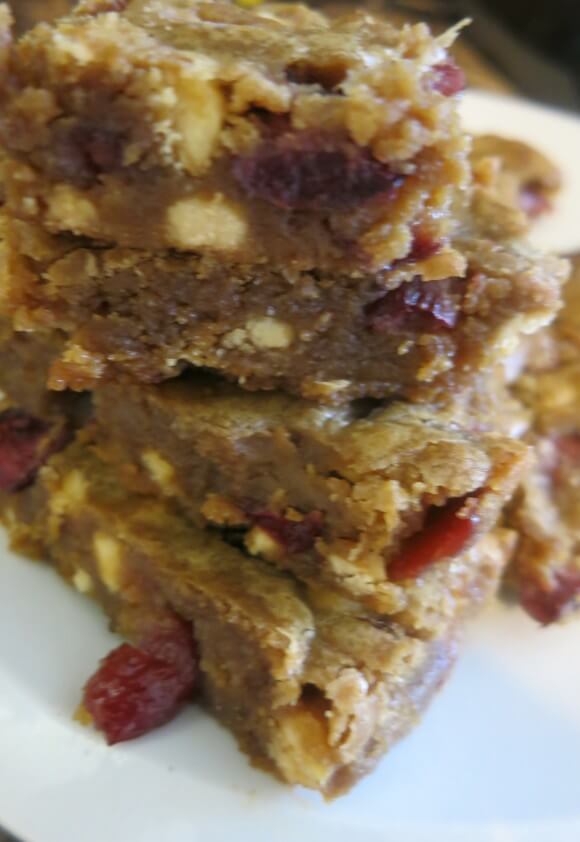 Today was going to be a beach day. Play in the water, build some sand castles, search for sea glass. Most importantly, snack on my delicious new obsession – Sriracha and lime pretzels. But then we actually looked outside, to a sky full of icky grey clouds. Then the lightning siren at the community center started to go off. So much for the beach. 🙁
But dark, rainy days make me want to bake. And I am still on my quest to clear out pantry items before we leave. So I took stock of what I have amassed over the last few months.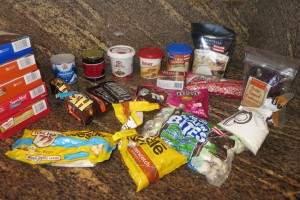 I have amassed a lot. But I noticed that my white chocolate chips were about to expire. Which scared me into wondering how long I've had them for. Because seriously, chocolate chips expire?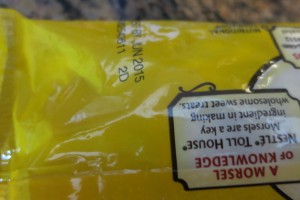 So, white chocolate chips had to be used. And I had half a bag of cherries in the fridge that Averi HAD to have when she saw them at the market, but that I seriously doubted she would ever finish eating. Which meant I had to make the chocolate chip and cherry blondies from Averie Cooks.
I have made them a couple times before and they are incredible. Moist and very flavorful. Don't you love a chocolate and fruit combo? Now, this time I was using white chocolate instead of semi sweet, and we all know white chocolate is inferior. 😉 But I had faith that the cherries and the blondie base would boost the white chocolate to a higher level. Like what happens in white chocolate macadamia nut cookies. I was not disappointed. In some ways I think I might even prefer it, as it kept the brownie a little lighter tasting as the chocolate wasn't as rich. But either way is a winner.
While they were baking the weather cleared up a little and we probably could have gone to the beach. But I had started reading "Girl on the Train" by Paula Hawkins while waiting. And then I couldn't stop. So much intrigue! Such great characters! I am now two-thirds of the way through the book and have no idea how it will end. But I need to find out! So I will continue reading tonight , while eating the cherry blondies. It will be a great night.
Suggestions on what to read next?
Cherry Chocolate Blondies
1/2 cup unsalted butter, melted
1 cup brown sugar
1 egg
2 tsp vanilla
1/4 tsp salt
1 cup flour
1 cup white or semi- sweet chocolate chips
1 cup chopped, fresh cherries
Preheat oven to 350.
Mix melted butter and brown sugar together in medium bowl. Add egg and vanilla and stir, add in salt and flour, mixing to combine. Add in chocolate chips and cherries, stirring gently.
Pour batter into a 11 x 7 baking pan that has been lined with tin foil* and sprayed with cooking spray. Bake for approximately 30 minutes, until sides are browned and the batter is set. The blondies will never be dry, as the fresh cherries keeps them very juicy and moist. So if the outside is browned and a toothpick doesn't come out with raw batter, you are good.
Let cool then enjoy!
* the tin foil cannot be skipped. I made these the first time in a throw away tin and they came out perfect. Second time I used an unlined glass baking dish and they never really set. This time I used the tin foil, and while definitely moist, they were once again perfect.