I've been back from Tucson since Saturday, and the good life of being a guest in someone else's home is over. Luckily, I haven't been expected to cook here either. Our good friends from New York were already in Miami, waiting for Averi and I to get here. Which meant brunch at their favorite place on Sunday, followed by the day at the beach and then dinner at a local Indian restaurant. Since they are from New York they were convinced that there is no good Indian here. They now know they were wrong. 🙂 We also enjoyed some great Cuban the next night and a casual pizza the third night. Hence the no cooking.
When I was in Arizona I did complain (a little) about staying at my moms place. Specifically, I complained about the temperature. She sincerely believes that the ac does not need to be set below 85 degrees. Anything lower than that and she is cold. Below 80 and she wants to wear flannel pajamas. I do not feel this way. Luckily the ceiling fan, the standing fan and the washcloths I would put in the freezer before bed helped. Some. I came home weighing two pounds less then I did when the month in Arizona started. And I ATE in Arizona. So obviously the weight loss was from the sweat box nights at my moms. Thanks mom! 🙂
Michael also lost weight while I was gone – 6 pounds to be exact. If you follow me on Facebook (as I continually say you should) you won't be surprised by this, as you saw the pic I posted of his version of a stocked fridge. How can you snack with a fridge like that?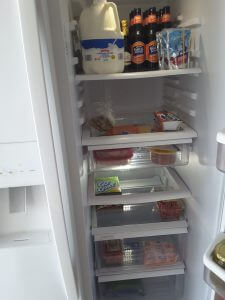 But I am back with him now. And back to condo living. Which means that people come into my unit to work on things and I have no control over it. Before I left, the building had started a project where they were replacing all the glass black decorative "windows" with just regular glass. Anyways, yesterday I got a call letting me know that today they would need to come inside and finish framing the glass. It would take an hour and I needed to be there. No problem, I can give an hour. Except they don't know when that hour will be, so I need to just sit around the condo till they show up.
Now, I do have Amazon Prime and Netflix, so I can kill a morning just fine. But this six pound weight loss of Michaels does not work for me. He obviously NEEDS some good home cooking. And as I've mentioned before, I like to have something baking when people come into the condo cause it makes the place smell good, which covers up mess.
On my last night in Tucson my family and friends had a going away party for Averi and I. And my friend Ceci, of Ceci Says, made this incredible blueberry pastry. Because in Tucson you can buy blueberries for under $1. And then get two more containers of blueberries for FREE! Insane. Blueberries are not that cheap here. But strawberries, raspberries and blackberries were on sale, so I decided to make her creation with them. Snag number 2 was that my grocery store apparently doesn't carry mascarpone. Or I don't know where to look for it and was to lazy to ask someone. It's one of the two. So instead I got ricotta cheese and whipped cream cheese. Then I also replaced the sugar with honey, cause honey. And I used my Salted Caramel Sugar instead of course sugar as a topping. But otherwise, TOTALLY the same as what Ceci made. 🙂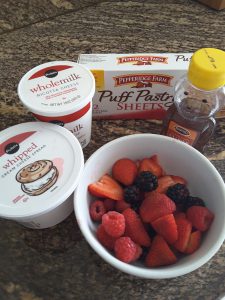 And just as delicious. The ricotta cheese gave a rich taste to it, but the whipped cream cheese kept it light. The berries are fresh, the honey is sweet. And the salted caramel is salted caramel. As I type this I am now thinking a drizzle of chocolate syrup would be fantastic as well. Next slice!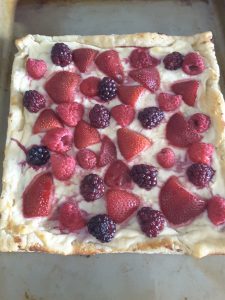 Ingredients
1 sheet puff pastry, thawed
1/3 cup ricotta cheese
1/3 cup whipped cream cheese*
1 tablespoon honey
1 tsp vanilla
1 1/2 - 2 cups berries of your choice
1 tbsp coarse sugar or salted caramel sugar
Chocolate sauce or honey for garnish
Instructions
Preheat oven to 400.
In a small bowl mix the ricotta cheese, cream cheese, honey and vanilla. If not sweet enough, add more honey.
Place pastry on a greased baking sheet. Make sure all seams are sealed and and fold up the sides to create a little wall to hold the filling in.
Spread ricotta mixture over the puff pastry, covering completely.
Cover ricotta mixture with the berries.
Sprinkle the sugar over the top of the berries and the pastry.
Bake for 20 minutes, until pastry has puffed and the golden
Serve as is or with a drizzle of chocolate syrup or honey.
Notes
*I know I am all about swapping out ingredients but I highly recommend keeping with the whipped cream cheese. It provides the lighter smoother texture you will want for this recipe. If you do use regular cream cheese, though, make sure to let it completely soften and then beat in kitchen aid with the ricotta.
https://discoverph.com/berry-and-cheese-pastry/