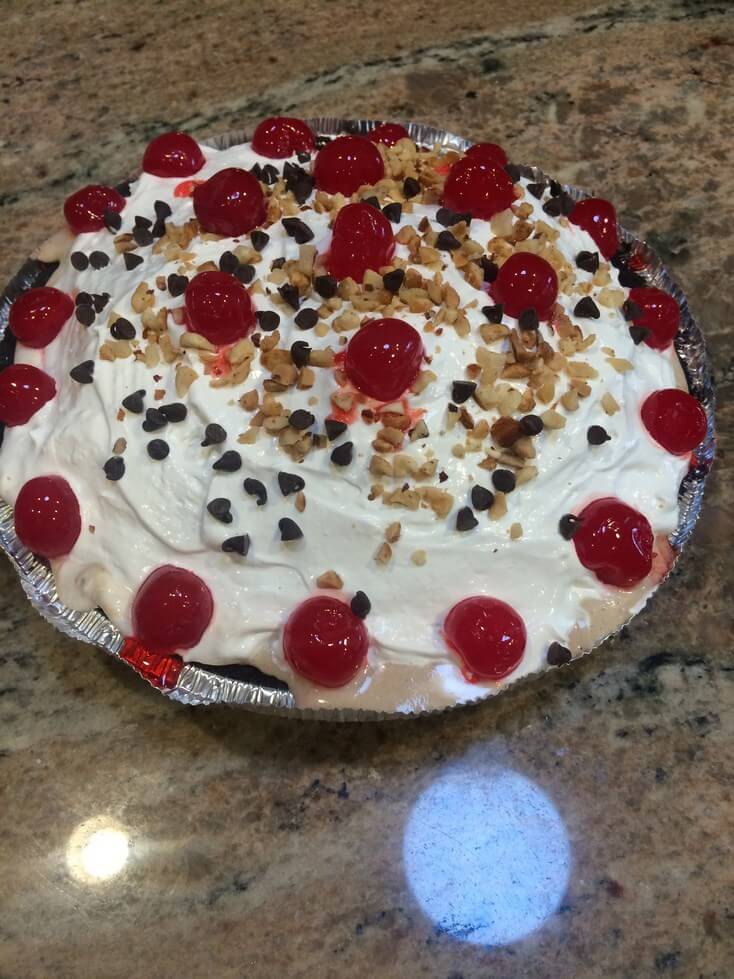 It's our last day in Tucson and I'm trying to fit everything in that we haven't done yet. So this morning I asked my husband to get me a bacon breakfast burrito. He complied, ensuring that I can still be considered an Arizona Trophy Wife. 😉
The morning was then spent at the Children's Museum Tucson (we love you Miss Coco!), followed by an obscene amount of sushi. We only stopped eating because it was 2pm and we all needed to go get ready to meet again at 5pm for a New Years party. Where there will be a lot of food. Have you sensed a theme to my Tucson visits? I only stop eating breakfast with friends so that I can meet other friends for lunch who I only leave so that I can meet other people for dinner. It's like being on a cruise. But without water. Or Charo. Coochie! Coochie!
The New Years Party is a family friendly one (hence the early start time of 5p), and is a pot luck. My MIL had been telling my mom the other day about the Adobe Mud Pies she used to make, and my mom was intrigued (as I'm sure you are too), so I decided to make that for the party, as my mother will be there and I want to celebrate her birthday which is right after we leave. Plus it gives me a legitimate reason to write another blog from Tucson and mention my friends! Hello, friends!
My MIL was nice enough to offer her kitchen and gather the supplies (which means nothing was missing, but as you can see, this is a pretty fluid recipe to begin with), and talk me through making it.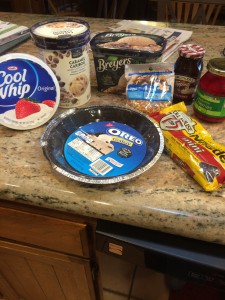 Connie (my MIL) started us off with an Oreo cookie pie crust, and told me that if I wanted I could put some of the hot fudge on the bottom. So obviously there is hot fudge on the bottom. We then placed a layer of coffee ice cream over that, and then Connie once again told me "that if I wanted" I could add more hot fudge. I replied by saying I didn't understand why it was being posed as a question. And that is why there is a second layer of chocolate. 😉
We then did a layer of caramel caribou ice cream. This was store brand, but essentially any ice cream with caramel in it will do. Connie had eaten the leftover coffee ice cream that had been on that spoon, so I had called dibs on the caramel one. And then made sure there was a full spoonful of "extra".
At this point Connie knew to just tell me that another layer of hot fudge would be good. As I was adding it I asked if it was last layer of the hot fudge. Connie said yes and not to worry if a lot of hot fudge was left as she never uses it all. I then showed her the essentially empty jar and said that was not my issue.
We then covered it all with whip cream and the great nut debate began. Connie is pro-nut, where as I adamantly believe that nuts do not belong in desserts. I thought I had the win when I remembered that Judi is allergic to nuts. Score! Then my husband wandered into the kitchen and reminded me that Judi is in Phoenix for the big UA Football game. So the nuts are on and I have two reasons for being mad that Judi isn't attending the party.
Connie's last touch is to place cherries on top. She told me that she likes to cut them up and sprinkle them around. As I started to say that sounded like entirely too much work, she continued with "but then I remembered you were making it and didn't think you would do that". Exactly. So whole cherries ring the pie. And then to obscure the nuts and add more chocolate (because as Connie said, what would Beth do?), I sprinkled chocolate chips over the top too.
It's been a whole hour and half since lunch and another hour and half till the party, so chocolate chips were poured over a spoonful of leftover whip cream to tide me over. I am in Tucson after all.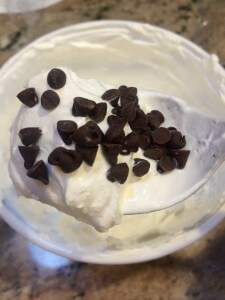 So, the recipe as I made it:
Adobe Mud Pie
Oreo Cookie Pie Crust
1 carton coffee flavored ice cream, softened
1 carton ice cream with caramel in it, softened
1 jar hot fudge
1 carton whip cream, thawed
1 jar maraschino cherries
1 package nuts, if you absolutely must.
1 cup chocolate chips
Spread a layer of hot fudge over bottom of pie crust. Add layer of coffee ice cream. Top with another layer of hot fudge. Add layer of caramel ice cream. Add another layer of hot fudge. Cover with whip cream. Decorate with maraschino cherries and chocolate chips. And if you absolutely must, the nuts. But don't tell me you did it.