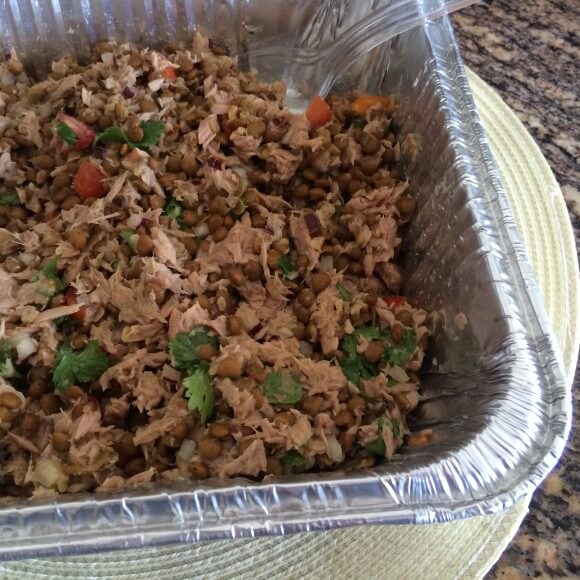 This is hard for me to admit, but I might have been a bit too judgmental. Luckily, it wasn't with people, so I will have no problem continuing to post pics of people so we can decide important things like if their butt is real, or if they are dressed for day or still in their clothes from night before (follow me on Instagram at aztrophywife if you want to play!).
No, my judging was worse. In the Avocado Lime Quinoa post, I judged Whole Foods. And while I still know I am shallow, apathetic and a little over weight (this is why I can judge others, as I judge myself too, right?), I now know I should be shopping at Whole Foods anyway.
Mainly cause I already shopped there this past week. Twice. And I'm planning a third trip tomorrow .
It started of so innocently (as it always does). Our condo building has decided that they are going to have a social committee, and the first activity on the agenda was a "get to know your neighbors" pot luck brunch. Averi saw the flyer for it and wanted to go. Because our building is seriously like 80% Jewish Grandparents. And they all love Averi. And Averi loves being adored. I told you, future trophy wife. 😉
So when I went to sign up for the brunch I saw that they had specific items they wanted brought. And as mentioned, this building is like 80% Jewish grandparents, so tuna salad was obviously on the list. I signed up for it. And while I am Jewish, I am not a Grandparent. So I decided to be all young and hip and make the Tuna Lentil Salad that I love. It has cilantro in it. Which is what makes it hip. 😉
Now, as I am sure you will not be surprised at all to learn, I used to get my lentils at Trader Joes. Already cooked, in the fridge section. They are fantastic. But not possible to get here on such short notice. So I decided that I would brave Whole Foods in order to make the salad. I figured I would run in, grab them and run out. Maybe stop to take a picture of someone for us to mock.
But I did not remember Whole Foods being so great. Specifically, the bulk food and already prepared food sections. I couldn't get over all the options available. I wanted to sit down and eat. Regrettably, I couldn't as time wouldn't allow, and I couldn't take with me as I was on way out for evening. But I did grab some stuff from bulk for Averi to snack on. And two cans of prepared lentils, only $1.50 each.
So I was able to make the Tuna Lentil Salad for today's brunch. Then we left brunch to meet some friends. We were going to explore the Downtown Miami area, before seeing the Harlem Globetrotters. And there just happens to be a huge, brand new Whole Foods there. So of course we decided we needed snacks for the game. Back to the bulk section! Where I got dark chocolate covered ginger.
Trader Joes, you have serious competition. You never offered me dark chocolate covered ginger. Or the ability to purchase just three pieces of dried pineapple and two pieces of dried papaya for the kid.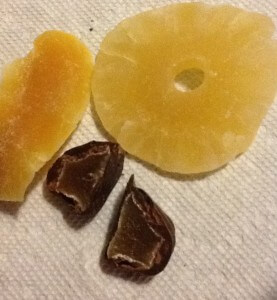 We drooled over the huge prepared food section today too. And decided we needed to go tomorrow to have a chance to enjoy some. I will also be picking up more lentils, as the salad was great. Averi had three helpings!
The cilantro, combined with a dressing made of olive oil, lemon juice, mustard and a few other items keeps the tuna salad light and tangy.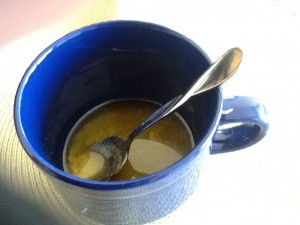 The lentils add some nice texture, and makes it more filling. If I had eaten it at home I would have served it over some spinach as well.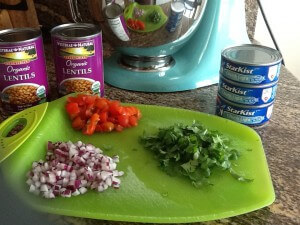 Tuna Lentil Salad
1 can lentils, drained and rinsed
2 cans tuna, drained
1/4 chopped red onion
1 tomato, diced
1/3 cup cilantro
Dressing
3 tbsp olive oil
1 tbsp lemon juice
1 tsp ground mustard
1/2 tbsp minced garlic
1/2 tsp ground cumin
1/2 tsp ground coriander
Combine all ingredients for salad. Mix dressing. Pour over salad, mixing to combine. Serve cold. On own, or over spinach.