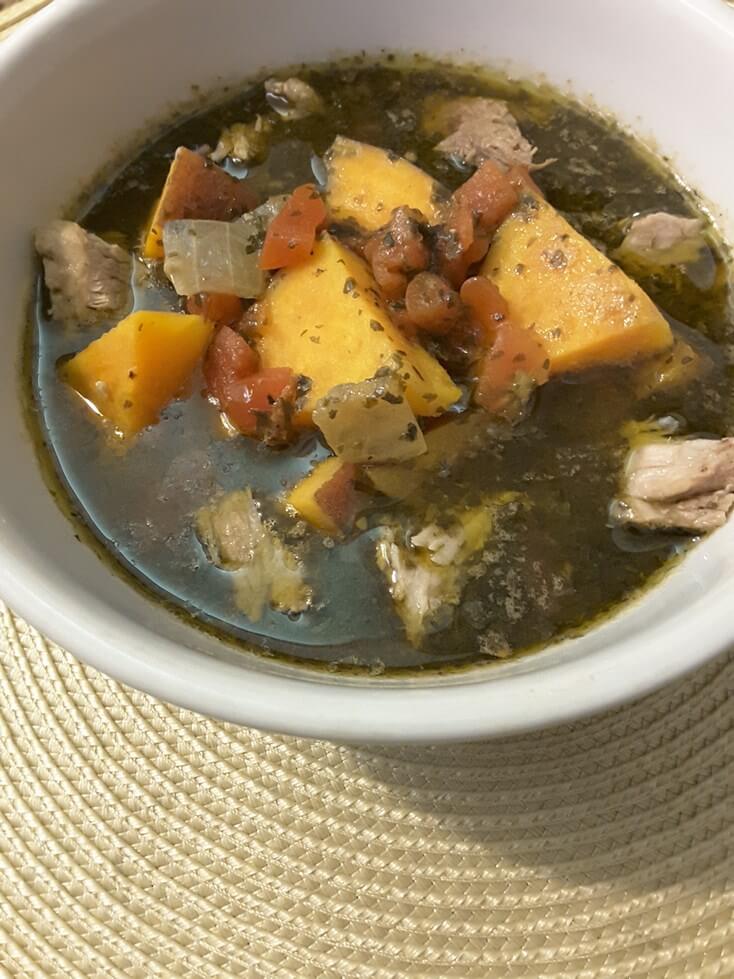 This is a recipe that I pinned from Barefeetinthekitchen.com. Her recipes are awesome, and I am sure that this one would be incredible if I had followed it the way she had it (original recipe can be found here at barefeetinthekitchen) But for whatever reason (alright, the reason is I was singing really loudly to my Ed Sheeran station on Pandora, while dancing around when I made up my grocery list. Apparently I can double task, but not triple task), I missed the line in ingredients that said "28 oz can salsa verde or green chile sauce". And I didn't realize I was missing it till I had already started cooking. So I found a practically full bottle of chimichurri sauce that I had been looking for a way to use, and decided it would work. And then at the last minute I also dumped in a can of tomatoes with green chiles, because I convinced myself that the tomatoes made the stew healthier and I would therefore be justified in not making a salad.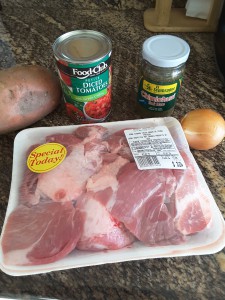 The results were amazing. Great broth that wasn't too thick or thin, with a nice kick. It ended up being too spicy for my 6 year old, so next time I won't add the extra can of chiles since the tomatoes had chiles in them. I was about to say "or I would use a can of tomatoes that doesn't have chiles in it", but then realized eliminating the chiles by themselves will save me a whole dollar. And if there is one thing that I enjoy more than being lazy, its saving money.
So, the recipe as I think I will now make it:
Sweet Potato and Green Chile Stew
Ingredients
1 pound lean pork stew, chopped
¼ cup flour
½ teaspoon black pepper
½ tsp garlic powder
1 tbsp olive oil
½ yellow onion, chopped into ½" pieces
3 large garlic cloves, minced
12 oz chimichurri sauce
1 can diced tomatoes with chiles
3 cups vegetable or chicken stock
½ tsp kosher salt
3 cups diced potatoes
Instructions
Combine the pork, flour, pepper and garlic powder so that the pork is completely coated. Set aside.
In large pot over medium heat, warm the oil.
Add the garlic and onion and sauté until translucent, approximately 2-3 minutes.
Add the pork and cook until browned, approximately 5 minutes.
Add all remaining ingredients except the potatoes.
Bring to a boil, cover and simmer on low for 45 minutes.
Add the potatoes and raise heat to boil.
Reduce to a simmer and cook until the potatoes are tender, approximately another 15 minutes.
Then enjoy! Preferably while listening to an Ed Sheeran station on Pandora. Make sure your station plays Landon Pigg, too. And Plain White Tees. And Never Shout Never. And Secondhand Serenade.
https://discoverph.com/sweet-potato-and-green-chile-stew/