Way back before we actually planned on having kids, Michael and I would sometimes talk about how fun it would be to have kids. And by fun, I mean fun for us at their expense. 🙂 We talked about the names we could give them – Hildegard was always a favorite. And a cute nickname wouldn't be allowed.
Other ideas we tossed around included:
– naming the dog cat and the cat dog, to confuse the kid
– making sure all their pants and shirts were just the slightest bit too short at the hems
– home, bowl style haircuts
– making them have obscure hobbies like stamp collecting and playing the kazoo
Then we had Averi and didn't do any of them. Yet. I just really love the whole dog/cat idea still. 🙂
But we have come up with new ways to torture her get revenge, based on her actual actions. Top of the list is payback for never letting me use the bathroom in peace. My idea is that when she is a teenager, and has friends over, I plan on asking her if she wants to accompany me to the bathroom and remind her how she used to insist on it.
I'm also going to wake her up in middle of night and ask for a glass of water. Demand her food instead of mine when we eat out. And then put my fingers in the food if she doesn't give it to me quickly enough. Then once I get it say never mind and ask for mine back again.
After being alone with her for the past three weeks as Michael traveled, I may start doing some of these things sooner then originally expected. But not at last nights dinner. Because I made one of the first real dinners I've made since Michael left three weeks ago. And it was delicious and shouldn't be marred with fingers. I'll wait till she cooks for me to do that. 🙂
I made Stuffed Mediterranean Chicken tonight. Because courtesy of my Costco shopping, I have a huge vat of hummus. Yum.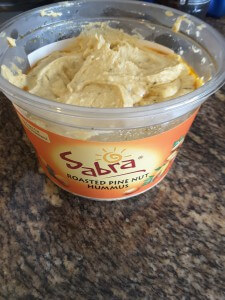 The hummus was suppose to be mixed with feta cheese, but I forgot to bring my grocery list to the store and didn't remember to get it. Luckily I had goat cheese. I also swapped out the Kalamata olives for black olives because that is my preference.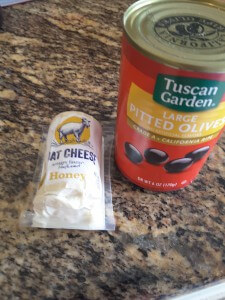 I also didn't cut the chicken and insert the hummus mixture into the chicken, because 1) I had thighs and not breasts and 2) that is a lot of work.
It turned out great. Smooth texture of the filling, with a rich earthy taste. I can see where the Kalamata would have added a salty flavor, giving it another layer of taste. If you make it with Kalamata leave me a message and let me know what you think.
Either way, enjoy!
Stuffed Mediterranean Chicken
1/4 cup hummus
1/4 cup goat or feta cheese
1 tomato, chopped
1/4 cup sliced black or Kalamata olives
4 pieces chicken breasts or thighs
Salt and pepper
pine nuts, optional
Preheat oven to 350.
Combine hummus, cheese, tomato and olives.
If using breasts and want to be fancy, cut a slit at thickest part of each piece and cut down, creating a pocket. Stuff hummus mixture into pocket. Place in baking dish.
If using thighs, or just want to keep it easy, spread hummus mixture on top of piece of chicken. Then fold in half and secure with toothpicks. Place in baking dish.
Bake for 20 minutes or until chicken is cooked through. Remove toothpicks, sprinkle with pine nuts and enjoy.