My plan had been for my next entry (aka, this entry) to be about the incredible Carnitas Tamale Pie I made today for our guest. Because it is incredible and needs to be shared. But then I served dessert, which was a chocolate strawberry puff pastry thing that wasn't that special, other then the fact that Averi made it and she sprinkled the top of it with the delicious flavored sugars we get from the Spice and Tea Exchange. Dark Cocoa Sugar and Salted Caramel Sugar. Yum.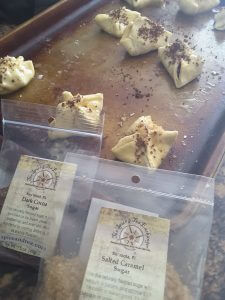 With dessert, though, I put out this jello concoction that Averi and I had made last night. We made it right before bedtime so she wasn't able to have it then. So I put it out for her. But because she immediately inhaled it, we were all intrigued and tried it too. Michael and I had two helpings and our guest had four. Then asked for the recipe.
We found the recipe last night while looking through the recent issue of Taste of Home. It was a tiny little quarter inch inclusion at the bottom of a page, that Averi somehow spotted over my shoulder. She started begging me to make it, and because we actually had most of the ingredients, I said yes. Despite thinking it was a really weird recipe. It only had three ingredients – strawberry jello, red hots and applesauce. Like I said, a really weird recipe.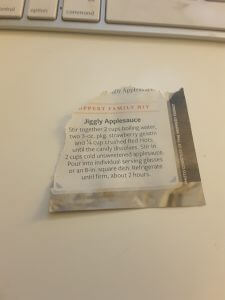 Amazingly I actually had the strawberry jello and applesauce on hand. Even better, the applesauce was a strawberry applesauce that I bought as part of a multi pack from Costco that Averi refused to eat. More strawberry? More better. 🙂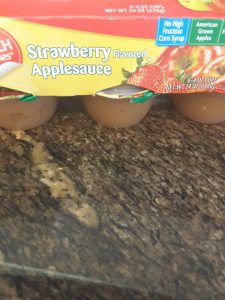 The red hots, though, I didn't have. Does anyone keep those as a pantry staple? I figured we would just toss in some cinnamon to get the cinnamon flavor. Then Averi saw a bag of marshmallows and asked if we could add those too. I figured that once they melted down they might act like a thickening agent, similar to what the red hots would do. Because I had red hots and hot tamales confused in my mind. In retrospect I think the red hots would have just added heat. The marshmallows were still a good addition, though, because marshmallow.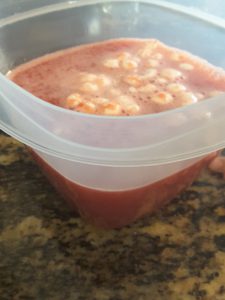 It was so good! Without the heat from the red hot it was a light, very strawberry dessert with a great texture from the applesauce. Instead of the normal wiggly, jiggly jello texture it had depth and real flavor. It was almost mousse like. But so much healthier and easier to make. Which is why we will be making this over and over.
Please make and let me know what you think.
Ingredients
2 cups boiling water
6 oz strawberry gelatin
1 cup mini marshmallows
1 tbsp cinnamon
16 oz applesauce, preferably strawberry flavored
Instructions
Stir the water, gelatin, cinnamon and marshmallows together until jello is dissolved and marshmallows mostly dissolved.
Add in applesauce.
Refrigerate at least two hours.
Enjoy!
https://discoverph.com/strawberry-jel-auce/