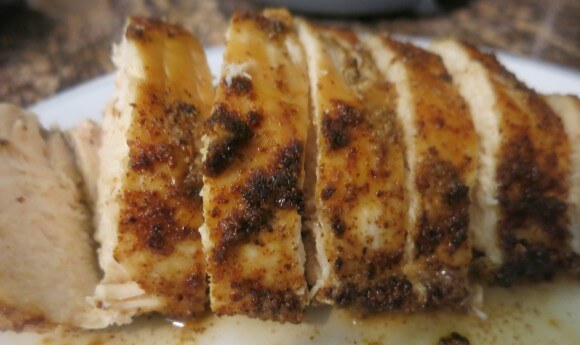 So as we have discussed, Michael travels a fair bit for work. When we lived in Arizona I didn't sleep well when he was gone. We had a burglar alarm, and we also had two 70 pound dogs.
This is Wilma and Fred. And while on one hand they were another layer of protection, they also required a dog door. A BIG dog door. I was always afraid I would wake up one morning to a snake. Or a tarantula. Or a bobcat, javelina, coyote or one of the other numerous animals that frequently appeared on our 4 acres.
Living in a condo with a security guard at the door has made me feel safer and I sleep better. But really, this is a false sense of security. Because 1) I know not everyone who lives in the building is an upstanding citizen. This was (literally) shown to us when Michael saw a dude who lives here naked by the pool, changing out of his bathing suit. Cause you know, the bathroom was a whole flight of stairs away. When Michael complained to security they knew exactly who he was talking about.
Reason 2 that I shouldn't feel secure here is that my safety is dependent on the people who live in the 87 other units. And alot of them are old. Can they be trusted to turn off their stoves and blow out their decorative candles? Or, as I saw last night, turn off their water?
I was leaving to go to a meeting and saw water cascading off a balcony.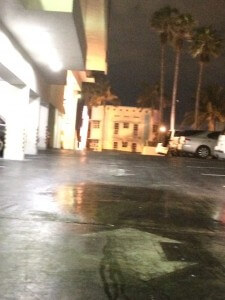 It was actually worse then this picture shows, because what you can't see is the drain that is at bottom of slope. Thankfully all the water was rushing into the drain, otherwise there would have been a pond. The evening security guard was arriving as I was leaving and noticed it as well. Since it was lower then our floor and on a different side, I went on my merry way, leaving it in the guards hands. But when I came back I asked the guard what had happened. Luckily, it wasn't major. The people had been watering a plant on their balcony and forgot about it, so it overflowed. All outside so all good. And hopefully it stays that way. I don't want to have a problem that will then require me to do nightly bed checks for each condo, especially since naked dude is still here. I might cause flooding by turning a hose on him. 🙂
I did turn off my stove after cooking dinner last night. The broiler to be specific. I made spicy honey chicken. Love this dish – it has a little heat from the spice rub but it is balanced by the honey so even Averi will eat it. And all spice rub ingredients are pantry staples so it's easy to whip up at last moment.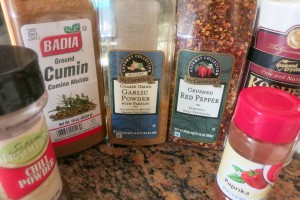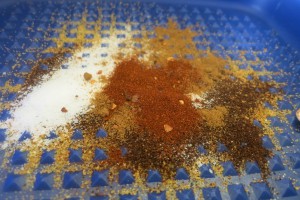 I also like that it is broiled, because it makes the rub get a little crispy.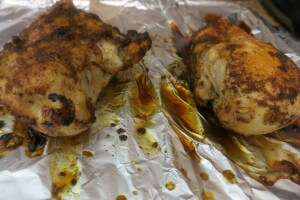 So cook it safely and fully clothed (or at least with an apron covering yourself) and enjoy!
Spicy Honey Chicken
2 tsp garlic powder
2 tsp chili powder
1 tsp salt
1 tsp ground cumin
1 tsp paprika
1/2 tsp ground red pepper
1 lb boneless, skinless chickenot thighs
6 tbsp honey
2 tsp cider vinegar
Preheat broiler
Combine all dry seasonings (first six ingredients) in a large container. Add chicken and coat, rubbing into chicken to create a nice crust. Place on baking sheet covered with tin foil. Broil for 5 minutes on each side.
Combine honey and cider vinegar in small bowl. Brush 1/2 of sauce onto chicken and broil for five more minutes. Flip chicken over, brush remaining sauce on to chicken and broil five more minutes.