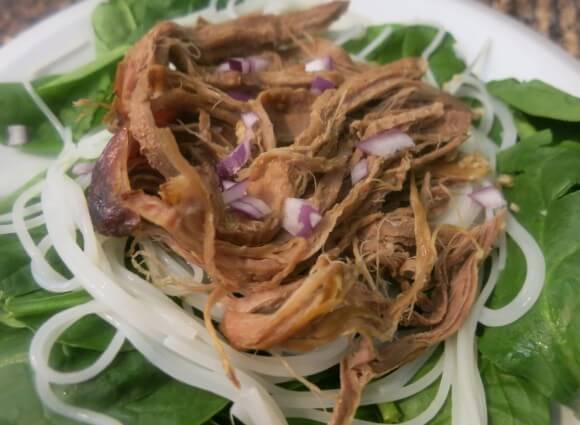 Hate to start the new year having to apologize, cause I do prefer to always be right, which obviously requires no apologies. But I will apologize for seriously slacking these past two months and posting practically no blogs. I have no excuse, other than traveling, having visitors, and of course, just my general laziness. Now, in my world, those are all valid excuses, but I will apologize anyway. Because I am nice like that. 🙂
Now back to my excuses, namely the traveling. We just finished a two week road trip, exploring areas of Florida that aren't Disney, as well as other locations nearby. We started our trip in Cocoa Beach to watch the rocket launch (it was awesome).
From there went to St. Augustine, Savannah, Panama Beach and ended in New Orleans. It was fantastic. We saw some great sites, geocached, visited with family, and ate.
Did I mention we ate? Because it can't be said enough. Mainly because for this trip I didn't research places to visit, but restaurants to eat at.
The highlight was Lady and Sons in Savannah. This is the restaurant that Paula Deen owns with her sons. It is obviously Paula's restaurant because you can taste butter in everything. Did I mention her restaurant was a highlight?
We had lunch there, choosing the buffet option. My first bite of the fried chicken and the mashed potatoes told me it was going to be the best chicken and potatoes ever. I was going to enjoy the meal.
Then Averi started to look panicked. At first we thought she was choking, then realized she thankfully wasn't, but I did have to abandon my meal quickly and get her to a bathroom. Which may or may not have involved my pushing an old lady who was just standing in front of the bathroom door, refusing to move, despite my asking and the noises coming out of Averi.
When we came out of the bathroom, I sadly thought about the meal I was going to need to leave behind. And the dessert I didn't even get to try. But (as I kept reminding myself) I love my child and her health and safety comes first. Which is why when Michael offered to take Averi outside so I could finish my meal I didn't hesitate to say "okay!". And I finished my plate. As well as a second one from the buffet. The fried chicken and mashed potatoes demanded it of me. And I didn't want to insult the sweet potatoes by not trying them at all. They deserved better than that. 🙂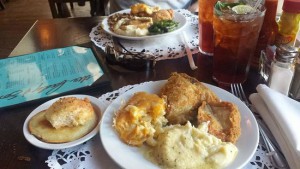 After I finished the second plate I texted Michael to see what was going on with Averi. He had established that she had bit into a large tomato and that the juice from it hit the back of her throat in just the wrong way to cause acid problems. She was all good now and ready to come back and enjoy the desserts with me. I was glad she was okay, but sad I had to share the ooey gooey butter cake and the banana pudding. So I went with the classic "just a few small bites till we are totally sure your stomach is okay". It's good to be the parent. 🙂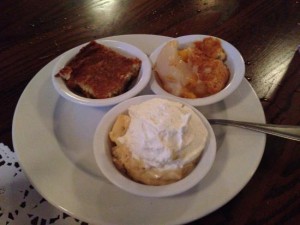 But now the vacation is over and real life must resume. Which means no more butter filled foods courtesy of Paula and her sons. The responsibility of preparing meals is once again on me. But since I haven't cooked in at least three weeks, and possibly as long as four, I needed to ease back into it. Crock pot cooking!
Specifically, Pork Adobo. I have been making this dish for years, after finding it on Skinny Taste, and love it. It's tangy from the apple cider vinegar but the taste of the soy sauce and garlic comes through as well. It's great over rice, but tonight I am serving mine over spinach in an attempt to be a little healthier (see above about eating two plates of butter with a side of potatoes from Paula Deen). Plus, it turns out I am out of rice, so I used some rice noodles instead, to add a bit of texture. I also added some red onion, as the husband had some cut some up, as he was eating his pork in the form of a burrito. Again, good texture and a little zing.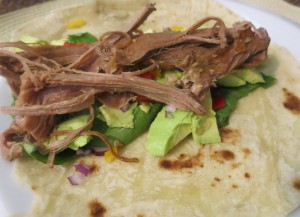 Hope your holidays were as tasty as mine! And if not, make this dish asap so they can become tasty. Enjoy!
Pork Adobo in Crockpot
1-2 lb pork loin
1/3 cup soy sauce
1/3 cup apple cider vinegar
1/2 cup water
3 tbsp minced garlic
5-6 bay leaves
Place all items in crock pot. Cook on low for 6-8 hours. Serve over rice and/or spinach.