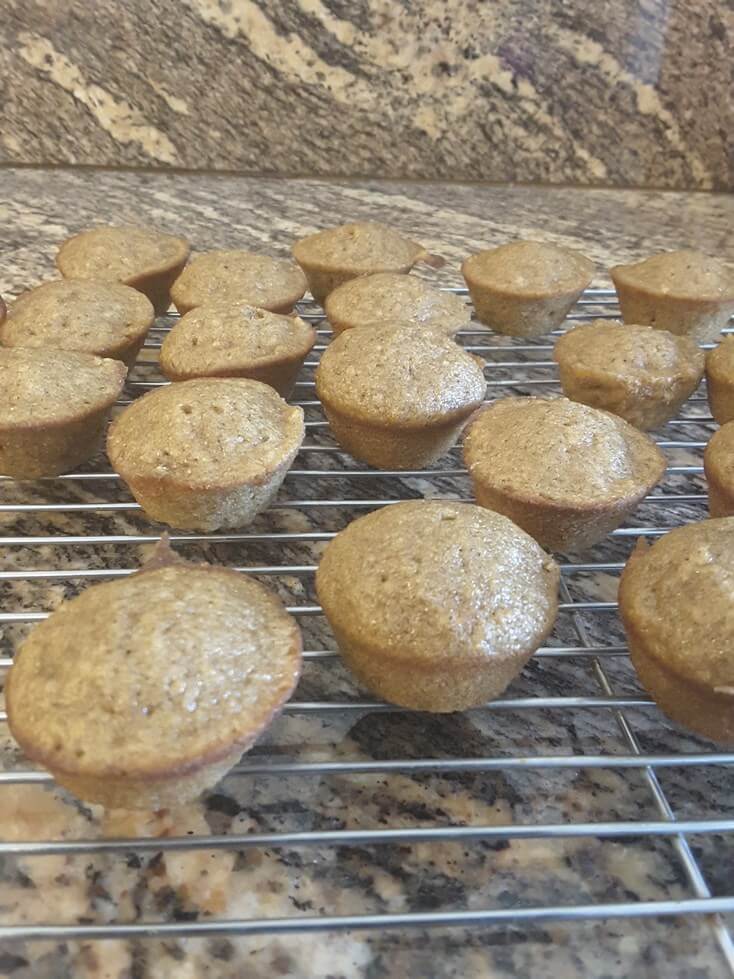 On my last trip to Key West I realized they had a Spice and Tea Exchange. As always, it was very exciting for me. I stocked up on flavored sugars and spices, and purchased a new one that smelled fantastic – autumn harvest. They recommended rubbing it on sweet potatoes.
So I bought a sweet potato. And it sat on my counter for forever, as I bought it right when Girl Scout cookie sales were starting. Which meant I was not cooking dinner. Until Michael pointed out that Averi had eaten sushi three times in one week, and then I did make a couple of things in the crock pot. None of them involved the sad, lonely sweet potato though.
I realized I was either going to have to throw out the sweet potato or do something else with it. And I didn't want to throw it out. Plus, I walk the beach a couple times a week with my friend and her little girl. Her daughter loves me. And by me, I mean my baked goods. 🙂 When she greets me it's with the words "muffins!". And if I don't have muffins for her then she isn't as happy during our walk. And then we are all not as happy. 🙂
So sweet potato muffins it is! I have been making these muffins for so long that when I first started I actually used some of Averi's extra sweet potato puree baby food, instead of using fresh sweet potato that I steam and mash.
The muffins were a hit! Mainly cause they are like little bites of sweet potato pie, with cinnamon and all spice flavoring. And even though they are mini, they keep my friends daughter very happy for a long time. Thank you muffins. 🙂
Mini Sweet Potato Muffins
Ingredients
1 cup flour
3/4 cup whole wheat flour
1/2 cup sugar
1/2 cup brown sugar
1 tsp baking powder
1 tsp cinnamon
1 tsp all spice
1/2 tsp salt
1/4 tsp baking soda
2 eggs, beaten
1 cup mashed sweet potatoes*
1/2 cup water
1/4 cup canola oil
3 tbsp unsweetened applesauce
Instructions
Preheat oven to 350.
In a large bowl combine the first 9 ingredients (all the dry ones).
In another bowl combine remaining ingredients (all the wet ones).
Stir the wet ingredients into the dry ingredients, just until moistened.
Fill greased mini muffin tray so that each muffin tin is 2/3 full.
Bake for 10 minutes.
Let cook for 5 minutes, remove from tin.
https://discoverph.com/mini-sweet-potato-muffins/