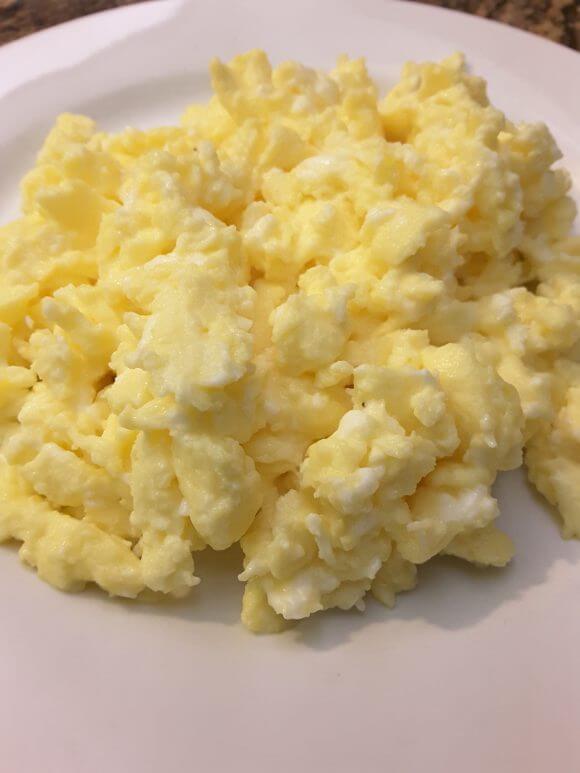 Sorry its been so long since I wrote. I kept thinking about things I wanted to write about and recipes I wanted to share. I was going to write about our trip to Russia, and make recipes that involved dill and find/create a recipe for this incredible garlic dipping sauce that Averi basically drank straight. I was going to talk about how we had our first serious hurricane scare and went to a friends house to wait it out.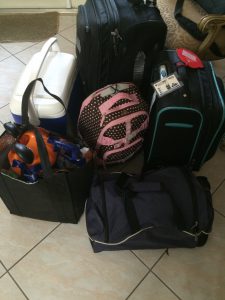 This is the luggage I brought for two days there. And when I say luggage I mean one cooler and two bags of food, one bag of clothes and one bag of memories and paperwork that I didn't want to risk losing. Plus Averi's bag of stuff she wanted to keep. Moe and Bridget, please note the pumpkin she insisted on bringing. 🙂 Luckily the hurricane passed over Miami and Broward County and we spent the time eating (no laughing at those three bags now!) and goofing around. We did not cook any real food.
The reality is that I have been barely cooking any real food. Partly because Michael has been gone almost nonstop since September, partly because I have been too busy watching One Tree Hill, and partly because Averi made me seriously doubt my skills as a cook. How, you ask? By telling me she preferred to eat breakfast in the cafeteria over home. Because their eggs are better. To add insult to injury, she told me that if I tried the cafeteria eggs I would understand. No, no I will not. Nor will I ever add the copious amounts of butter that she says the cafeteria eggs have that make them better.But I will get her to literally (it is literally in this case, right?) eat her words. I will make the best eggs she has ever had, and not just because mine will be real eggs, which I seriously doubt the cafeteria's are. And I will do so with the help of Julia Child. Who granted, loved her butter. As well as her husband.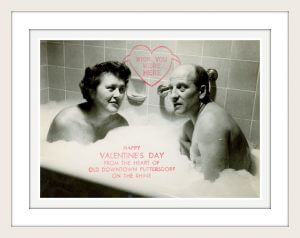 Seriously, how cute is this photo?
I watched Julie & Julia years ago, and became slightly obsessed with Julia Child. I visited her kitchen at the Smithsonian in DC and read her book "My Life in France". She really is incredibly impressive. And she has a really great egg recipe. So even though I rarely make breakfast on weekends and NEVER make breakfast during the week, I made Averi eggs this morning. And then I made her eat them. Well, technically her exact words when eating them were "these are as good as the cafeterias! " I'm sure Julia rolled over in her grave. Because her eggs are fantastic. Buttery without only tasting like butter, and with a velvety texture. I didn't even add salsa or hot sauce to them, and that is saying something! And Averi ate every single bite.
So now my confidence has been restored and I can begin cooking again. Or I have a really good drink recipe I was going to share too. What's your preference? Food or drink? Or drinking while you cook? Julia was great at that too. And Dan Aykroyd does a fantastic impression of her drinking and cooking. Enjoy!
Julia Child's Scrambled Eggs
Ingredients
8 eggs
pinch of salt
pinch of pepper
2 tbsp softened butter
4 tsp milk
2 tbsp butter
Instructions
Mix eggs, pepper, salt and milk until combined.
Rub softened butter over bottom and sides of pan.*
Pour the egg mixture into the pan and cook over low heat.
Continuously and slowly stir the eggs, taking 2 - 3 minutes to start to "scramble".
Begin stirring the eggs quickly, and remove from heat time to time.
When reach desired consistency, remove pan from heat.
Add the remaining butter to the pan and season to taste.
Then enjoy!
Notes
*do not melt the butter in the pan, or preheat the pan.
https://discoverph.com/julia-childs-scrambled-eggs/