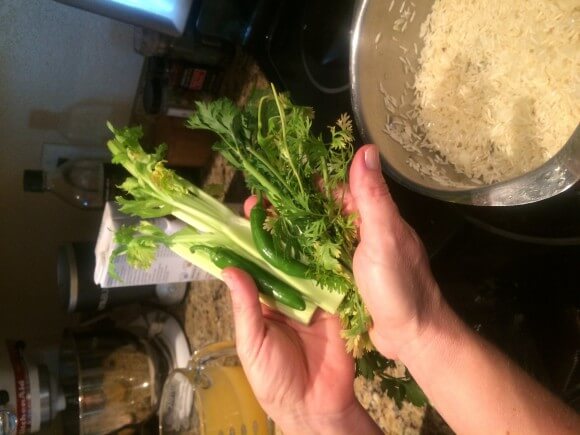 Averi is in summer camp this week with four of her friends, which means I am doing my favorite Tucson activity – spending time with my friends doing nothing. We drop the kids off at camp then grab coffee, roam the mall (two pairs of shorts today for $35!), and hang out at each other's houses being unproductive.
Well, that not totally true. A friend and I spent an hour sending pins to another friend. Michelle focused on sending awkard family photos and I stuck with religious humor.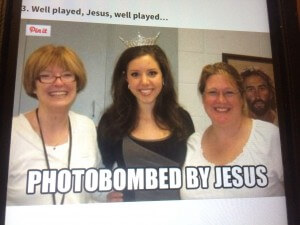 If that's not time well spent I don't know what is. 😉
Then it was on to another friends house for dinner. Which is my second favorite Tucson activity – eating. She had bought delicious shredded beef, beans and tortillas from a little Mexican restaurant. Sooo good. But the highlight of the meal was the rice she had prepared.
My friend sautéed onion, added long grain rice, chicken broth and then items to infuse the rice – cilantro, parsley, celery and Serrano chiles. The celery surprised me, but the chiles had me asking about heat. I was reassured it wouldn't be to spicy for the kids, and she was right. The rice was incredible – flavorful, but not spicy, a perfect accompaniment to the meal. I was so in love with the rice that I quickly took a picture with my phone so I could share it. So sorry for the poor quality of the one picture I took, but the rice more than makes up for it. I'll upgrade when I get back to Miami and make it there. Because I will most definitely be making it soon.
Thanks Nici for a delicious meal and a new recipe!
Infused Rice
2 tbsp olive oil
1 cup long grain rice
2 cups chicken broth
2-3 stalks celery, leaves still on
2-3 sprigs cilantro
2-3 sprigs parsley
2 Serrano chiles
salt and pepper to taste
Soak uncooked rice in very hot water for 15 minutes, then rinse in cold water.
Add rice and olive oil to pot. Cook over medium heat, stirring often so rice doesn't stick. Rice will begin to thicken, getting a consistency like sand. Create well in center of rice and add onion. Cook onion till almost translucent, mixing into rice.
Add remaining ingredients. Bring to a boil, then cover pot and simmer for approximately 20 minutes, until liquid is absorbed. Remove celery, cilantro, parsley, chiles. Enjoy!