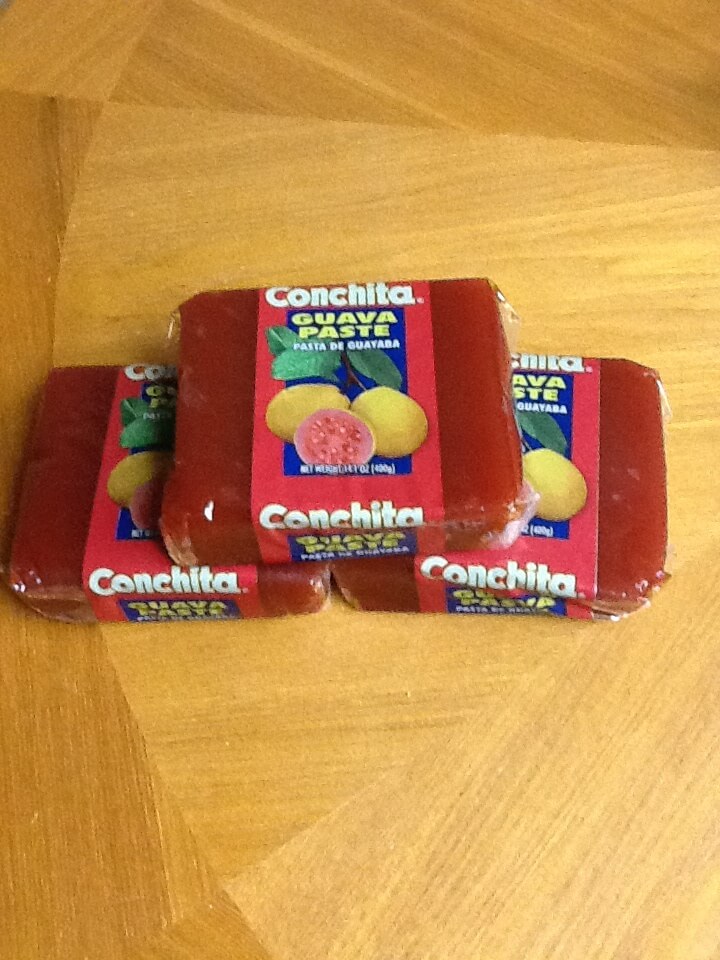 Friday was the last day of school for the year, which meant that yesterday we flew to Tucson for the holidays! I am super excited to be here, and not just because last night some friends and I went to Old Pueblo Grill where I got to have their green chile macaroni and cheese. Yum!
Today my friends and I are holding our annual holiday 5 under $5 party. This is where we bring 5 of one of our favorite items that costs under $5. Past years have turned me onto some great things, including EOS shaving cream (thanks, Jen!), EOS lip balm (thanks, Ceci!) and the fact that apparently almond roca makes a great gift for my husband (thanks, Aimee!).
We also bring food. A lot of food. Since I only arrived yesterday and I am not in my own kitchen, I feel limited in what I can bring. Luckily, since moving to Miami I have a new obsession that was easy to bring and requires pretty much no prep.
Guava Paste.
It is a weird jelled brick of deliciousness that I found at a grocery store shortly after moving here. As with most things in my kitchen, I found our favorite way of using it by trying to make do. Last year my daughter was in preschool, and therefore needed to go to a private one. She ended up at a temple school not far from here, where no meat was allowed, as how can you tell difference from ham and turkey? No peanut butter was allowed either. I remembered how my mom used to make cream cheese and jelly sandwiches, and we loved them. But I didn't want to deal with the mess of jelly in her lunches. And the guave paste slices. So guava and cream cheese sandwiches were created, and my daughter ate them almost daily. And they are great.
So, I turned them into an appetizer. Guave and cream cheese on crackers. And that is what I brought to the party. Unfortunately, they weren't that good, as I accepted my moms offer to grab a box of crackers from her pantry instead of going to the store (do you think we will ever have a post where I don't become lazy at some point?). And she had some weird type of cracker that didn't gel with the flavors and overpowered them. Don't get fancy with the crackers (remember, we are serving Arizona Trophy Wife food, not Miami Level). Your basic Keebler cracker will do.
My husband claims the reason they weren't good is because of the cream cheese. He insists that we normally use goat cheese. I can see us doing this, as we do have goat cheese in the fridge a lot and I am all about using what I have. But I honestly don't remember. So try both and decide which you prefer.
Alright. You have made it to the end of this post, and might be wondering what is up with this lame excuse of a recipe. You are totally justified. While delicious, it is a lame excuse of a recipe. So lame, I don't even feel like writing it as an actual recipe. In reality, I just wanted to be able to talk about my trip to Tucson and my friends and I don't expect to have a legitimate reason to write about them, as I have no intention of cooking while here, as there are to many good restaurants to eat at. And my mom needs to make us latkes. So I will offer you this recipe for Guava Whip Cream that I came up with. Enjoy!
Guava Whip Cream
1 package Guava Paste
lemon juice to taste
1 container whip cream
Place guava paste in saucepan over medium heat. Start with two tablespoons of lemon juice. Boil the paste down, adding lemon juice as needed in order to create a jam like texture.
Once you have desired texture, let cool slightly. Then mix into whip cream.
I used this as a dip for slightly dry cookies. Would also be great as a filling on a chocolate cake, as cupcake frosting, or on waffles.