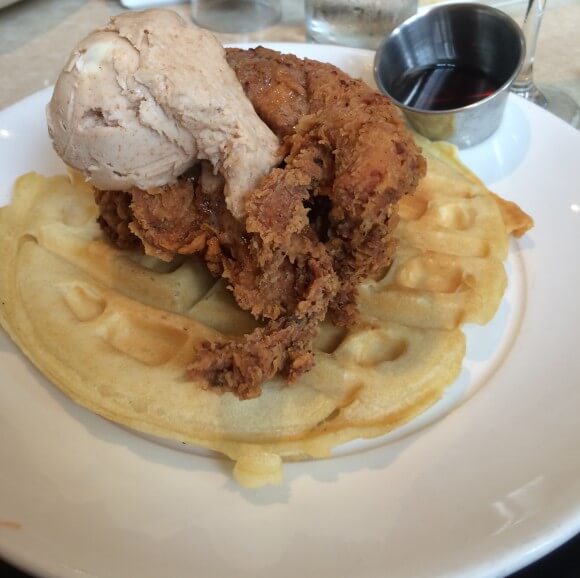 Hello, my name is Beth and I'm addicted to Lincoln Road and it's surrounding areas. Lincoln Road is in South Beach and has tons of stores, restaurants and insane people watching. I love going there.
So this past week I went twice, both times with friends. Once on Friday and again on Sunday . The food was great on both (falafel on Friday with this incredible cilantro sauce that has me wanting to make something heavy on cilantro. Stay tuned for that), but it's the food from yesterday I'm going to talk about.
My friend Lindsey and I decided to have brunch at 660 at the Angler. I'd read they had great drink specials and chocolate covered bacon. Sold!
Unfortunately they were out of the bacon. On the plus side, though, this means I have an excuse to go back. 😉 Because the drink special was on point! It was unlimited mimosas for $25, and our server was awesome and only charged us for one person. But we definitely drank for two! Guava mimosas! What else can I write that I can use an exclamation point with!!!
We also ordered a lot of food. Lindsey had run a 10k that morning (I know, but I promise, she has redeeming features! 🙂 ) so she was starving, and I was just trying to stay sober as I'm a total light weight (I know, but I promise, I have redeeming features! 😉 ). I'll be honest with you, we needed more food. I was a little buzzed by the end. Guava mimosas!

Lindsey and I shared the Pandebonos, which is Colombian cheese bread. And it comes served with guava butter. Guava butter, people! I have no idea why I never thought of this, but it will now be a staple in my life.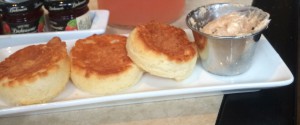 Which is why I was also thrilled with my chicken and waffles, which was served with an ice cream scoop size of the guava butter. And I ate all of it.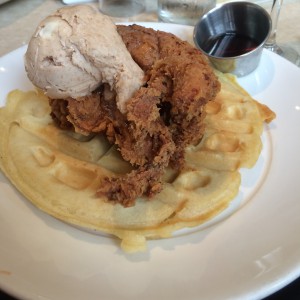 I have not tried making the butter yet myself (But I'm thinking I need to use the rendered down version of the paste that I used in the whip cream, mixed with butter. Whipped in my gorgeous kitchen aid.), so instead I will share with you pictures I took on my two trips to Lincoln Road.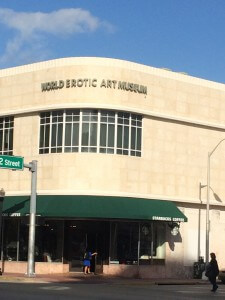 How can you not love the Lincoln Rd area when they have this? And restaurants that offer fruit based hookahs?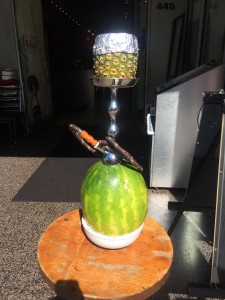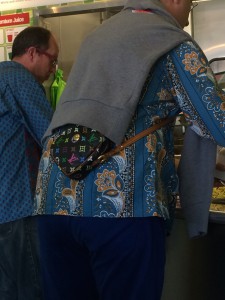 Or fashionably dressed European men with their Louis Vuitton bags (the other gentleman's was the larger traditional all brown one) enjoying the build your own falafel bar?
But enough about Lincoln Road. You want giveaways! My friend Hannah had asked about the Garlic Seasoning I have used (and I know, I still owe you some. I haven't been to Presidente yet!) and my friend Michelle told me she was going to need me to send her some Guava Paste. Which made me realize that many of you don't have access to the yummy replacement items I use a lot. So I will gift them to you! Start following me on Pinterest! You can find me at AZtrophy wife. When I hit 100 followers on Pinterest I will randomly select one to send a gift basket of items I have mentioned too. And once you are following me on Pinterest, repin my stuff! Once a recipe hits 100 repins, I will send a gift basket of stuff to one of those pinners! And I will do that for all my entries, so there are lots of chances to win.
And maybe, just maybe, if I am feeling Miami Level Trophy Wife, if I hit a much larger number of followers – like 10,000 – I will fly someone out here to drink guava mimosas and eat guava butter with me at 660 at the Angler. So let me pretend I am Sally Field and "like me, really like me!" please. 🙂