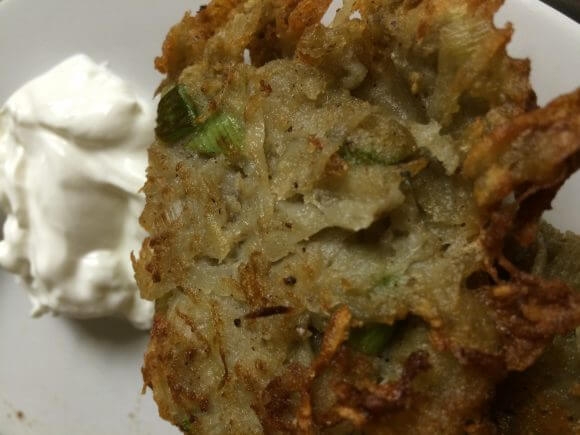 If you know me, you know I enjoy all things food. My food, others food, the prospect of food, food shopping, and most definitely talking about food. Every day when Michael comes home from work, if he didn't packed a lunch, I ask him where he ate and what he had. Since we've been in Arizona for almost a month, I have been asking him every night what he did for dinner.
My sil was here last week, away from her husband. One night my mil asked her about what her husband had eaten, and my sil said she had no clue, they don't talk about that kind of stuff. I might have gasped. My husband had eaten paprika chicken that night. The night before he had empanadas. Yesterday he took a new employee to dinner at this fabulous Middle Eastern restaurant we like. I can't remember what Michael had but the guy had a lemon oregano chicken kabob that Michael thought I would like. 🙂
Apparently this amount of knowledge on your partners eating habits is not normal though. At least based on the answers I received from friends that I immediately began polling. Which leaves me wondering, do Michael and I talk about food because 1) I'm seriously obsessed with food 2) after more then 18 years together we have only minutia left to discuss or 3) I'm too shallow to discuss anything heavier?
Personally, I'm leaning towards obsession. I did after all arrive in Tucson with a list of restaurants I needed to eat at. And pretty much all plans I've made have revolved around these restaurants. In my 3 weeks of travel I've met people for 5 breakfasts, 13 lunches and 12 dinners. Plus there have been a ton of impromptu outings. And I've also hit Trader Joe's and enjoyed some great home cooked meals by mom. Latkes!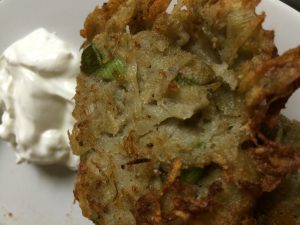 But yesterday all that eating caught up to me. To be blunt but hopefully not too much tmi, my stomach was torn up. Luckily I was in Tucson. Which means I had the miracle cure my friend Ceci has the whole Mamafia using. It is all natural and incredible, and one packet settles your stomach and makes life okay again. Her cousins company makes it, and she is giving me a full box to take back with me.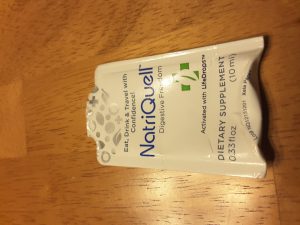 Thankfully it worked super quick, and my stomach was good today, because I had lunch at one of Michael's favorite deli's. Which I of course made sure he knew about by sending him a picture. He in turn called me a wanker. So I guess there is reason #4 we discuss food – to make the other jealous. 🙂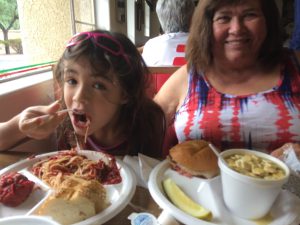 Do you and your partner discuss what you ate when you weren't together? If so, let me know. If you don't, keep it to yourself. 🙂
And if you want more info, or to try, the miracle cure, here is a link to it on Amazon. Please note, this is an affiliated link, but that's not why I am sharing it. I am sharing it because it is awesome. Earning money while you get relief is just a bonus. 🙂