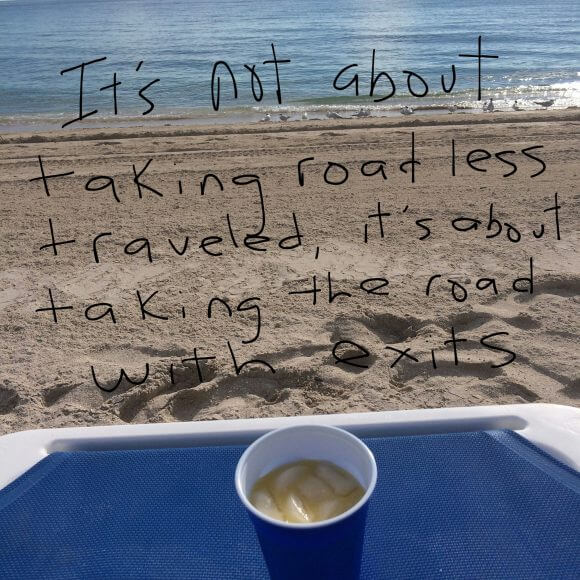 If you follow me on Instagram, then you know that last month I participated in a beach photo challenge, where each day had a different theme for what type of photo should be posted. There were some fun themes too – favorite find, most bizarre find, ugliest, sea glass jewelry and the most anticipated one on day 23 – seanis. Which is pretty much what it sounds like – something from the SEA that looks like a peNIS.
These are the two I posted. If you want to see more, and you do, search under #seanis on Instagram. You can thank me later. 🙂
Day 16 though, was Life Lesson. And this is what I posted for that: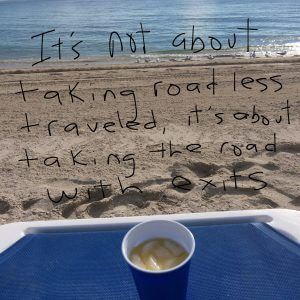 In case you can't read my stellar writing over this gorgeous backdrop, it says "It is not about taking the road less traveled. It is about taking the road with exits."
I read this line in a book around 3 1/2 years ago. And it really resonated me, as that was when we were trying to decide what we wanted to do with our lives. My husband, Michael, had quit his job in Tucson, AZ. He had been offered another one there, in a different industry. Then when word got out in his industry that he was available, he received calls from a few companies, including one in Chicago and one with an office in Miami.
The Chicago one would let him stay in Tucson, working remotely. The Miami one wanted him in Miami. Since we obviously ended up in Miami, I won't get into the details, but I will say – the line about exits played a huge role in our deciding to go. It helped us look at the move to Miami as something that didn't need to be a commitment for the rest of our life, but more as one long vacation. We made choices so that if and when we decide to go back to Tucson, we would be able to end the vacation and move back, aka – taking an exit off the road we are currently on.
The line was in a book called "The End of Your Life Book Club" by Will Schwalbe. And the entire book is as great as that line. It's a true story about Will, and his mother, who is dying from cancer. They form a book club and talk about the books while he takes care of her. There is also back story about them. And they are amazing. His mother was a ground breaking woman, who held important positions with colleges and non profits. She will make you feel slightly inferior, while wanting to do better.
I've mentioned the book once or twice to people since I read it, but I am pimping it hard core now, because I just saw it is available for your Kindle on Amazon for $1.99 (ignore the $12 price on the link below – that's if you buy an actual book, versus the e-book). Get it, read it, love it, and tell me how it is impacting your life. And also tell me how many of the books that are mentioned in it that you ended up jotting down to read as well. I wrote down so many I am still making my way through the list.
And as always, if you purchase this book from the link, I will get a kickback. A very small kickback cause it's only $1.99. Which also means that you wouldn't get it cheaper if buying on own. Cause it's only $1.99.