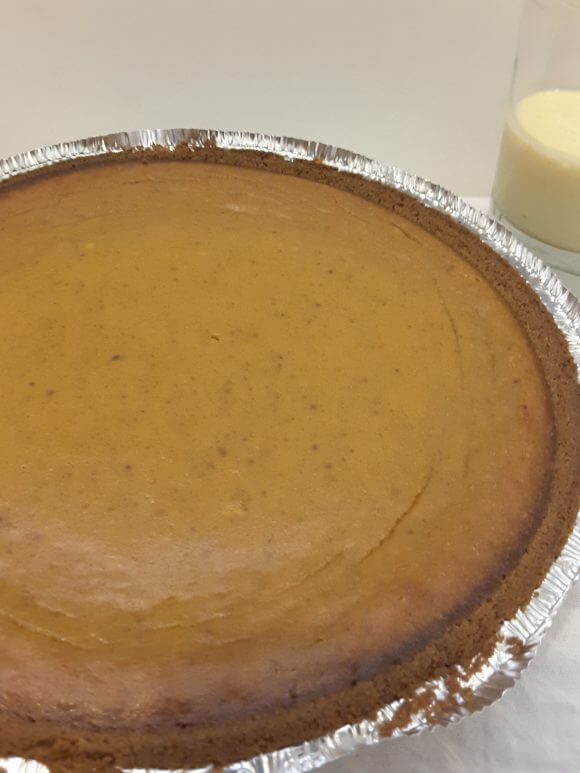 I wasn't going to post anything today, because really, I don't have much to say. I've been house bound almost all week, getting things ready for our new tenants and for our trip. I have also been binge watching Once Upon A Time on Netflix. Any watch this show? I am loving it! I like how they keep to the classic stories we know but give an interesting and unexpected twist to each character. The episode I'm watching now introduces you to Captain Hook and Mr. Smee. Ever since Averi introduced me to Jake and the Neverland Pirates I have had a whole new appreciation for them. Ah, coconuts! 🙂
Anyway, I decided to post real quick to share a recipe I just made, in case you need a quick and easy last minute holiday dessert for your celebration. Eggnog Pumpkin Pie. We are going to a friends tomorrow night and I am bringing dessert. And I have almost a full thing of Eggnog in the fridge, because as always, I buy something that Averi wants and then after she enjoys it that day, she forgets about it and doesn't touch it again. I wish I had that kind of restraint.
But back to the pie. This is a seriously simple recipe. One bowl, mix with a spoon, dump into a premade pie crust. It has great pumpkin pie taste, but with a creamy, custardy texture from the eggnog. Perfect for the holidays, and the eggnog addition also makes you seem fancier when you present it. 🙂
Happy Holidays!
Ingredients
15 oz pumpkin puree
1 1/4 cups eggnog
2/3 cup sugar
3 eggs
1 tsp cinnamon
1/4 tsp ground ginger
1/4 tsp ground nutmeg
1/8 tsp ground cloves
1/4 tsp salt
Pastry shell
Instructions
Preheat oven to 375.
In a large bowl, combine all ingredients. Except the pie shell. I would hope I didn't actually need to say that, but considering my shredder says not to put your hand or baby into it, I figured better safe then sorry. 🙂
Pour batter into the pie shell.
Bake for 60-65 minutes, until pie is set.
Cool, then refrigerate until ready to eat
https://discoverph.com/eggnog-pumpkin-pie/