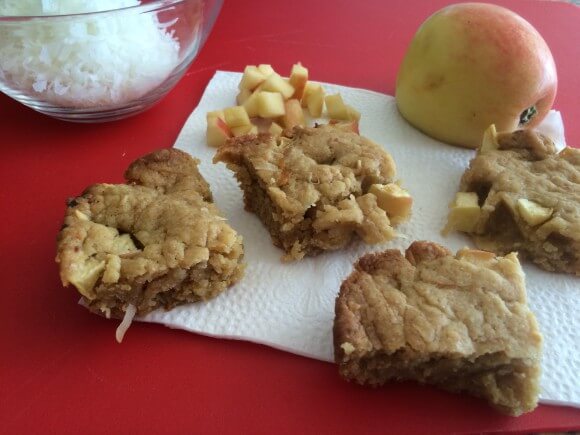 As I mentioned in the Avocado Margarita entry, we have become slightly obsessed with Disneyworld. And since this is Presidents Weekend, aka a four day weekend, we are Disney bound. Even better, a bunch of our friends are going too, so it should be really fun.
We are staying at a hotel that has complimentary breakfast this time, so there is no need to bring anything for that meal. But since we will have friends there this time, our days will definitely be longer (I'm looking at you Moe and Bridget, who like to shut down the park. And here's a tip for anyone else who is Disney bound – as long as you are in line for a ride at closing time, you can go on the ride. So if the park closes at midnight and you enter a line at 11:59, you are good to go. Even if it takes you an hour to get through the line).
So in my world, longer days equals more snacking. And while we definitely buy popcorn at some point during each trip (it is impossible to smell it and not crave it), as well as the occasional dole whip (and here's another tip for you – they now sell them at Sunshine Terrace, which pretty much never has a line. So don't wait 30 minutes or longer at the original place.), we mainly bring in our snacks. It's healthier and cheaper, which are two things we need to be concerned with considering how often we go.
For the snacks, it needs to be something that doesn't take a lot of space in the backpack, won't melt, and won't get smushed easily. Side note, I am getting a red line under the word smushed. As if smushed isn't a word. Isn't smushed a word? Or am I just spelling it wrong? Nothing is coming up in spell check, although it did helpfully suggest using the word mushed instead. But mushed really isn't the same as smushed. So we shall continue on with smushed!
I found a recipe for Apple Snack Squares in an old cookbook I have called Cookies, by Natalie Hartanov Haughton. The recipe is in a section called "Lunch Box and & Travel Cookies". Given that title, it seemed like the recipe would fit my criteria of being healthy and travel well. Smush free. 🙂
Although, my version isn't as healthy, as I do not have any wheat flour. I really should get some. Next time! This time it was 100% all purpose flour, but if you have wheat it is ½ cup all purpose flour and ½ cup wheat flour.
I also did not have any type nuts to use, and the recipe calls for ½ cup. I did have shredded coconut and dried cranberries, though. In the end I just went with the shredded coconut, as to be honest, I wanted to save the cranberries for something better. And when I make it, you will be glad I did. 🙂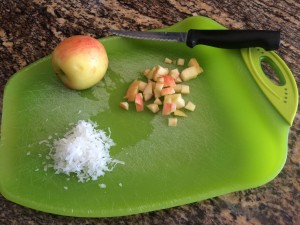 The last two changes I made were to add cinnamon to the recipe, because seriously, why would you make something with apples that doesn't have cinnamon? And then secondly, the recipe recommended sifting powdered sugar over the cooled squares. I omitted that, as it seemed messy for travel.
My version turned out really good, if I do say so myself. The cinnamon was a nice addition, and the coconut added some great flavor and texture. They also cut into clean squares, perfect for travel and lunch boxes. Natalie didn't lie. 🙂
So the version as I made it:
Cinnamon Apple Coconut Squares
1/3 cup butter
½ cup brown sugar
1 egg
1 tsp vanilla extract
1 cup flour
1 tsp baking powder
1 tsp cinnamon
pinch of salt
½ cup chopped apples, unpeeled
½ cup coconut
Preheat oven to 350.
In a medium saucepan, melt butter. Remove from heat, stir in brown sugar, egg and vanilla. Add flour and remaining dry ingredients. Add in apples and coconut, making sure to distribute well through the batter.
Spread the batter in a greased 9-inch baking pan. There will not seem like a lot of batter, but if you use a good spatula, you will be able to spread it evenly to cover the baking pan.
Bake for 25 minutes. Cool in pan then cut into squares.