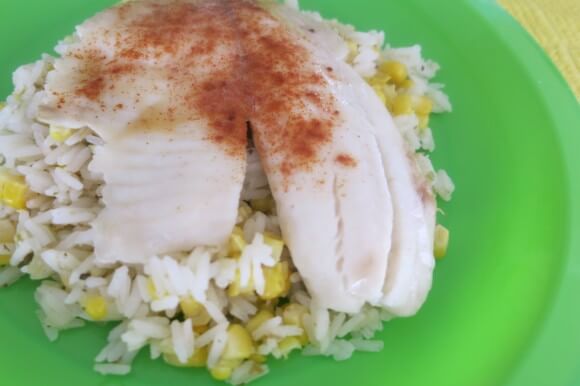 I am le tired.
You did click through that link, right? If not, you should. It is sweet. A sweet earth. I watch it at least once a year. My goal in life is to recreate it. So far I have France done.
(This is where I was going to insert the video of Michel and I at the Eiffel Tower, doing our clip for this video. But I can't figure out how to insert the video and its 10:40 at night and we are le tired so I can't figure it out right now. Follow me on Facebook and I'll post it there for your viewing pleasure).
Michael has been to Russia twice but has failed to yell "Motherland!". Apparently I will need to go on his next trip to ensure it happens. 😉
But back to being tired. I'm to tired to come up with anything that ties my dinner to a story. So I'm not even going to bother trying. I'm just going to give you the recipe. And of course, the awesome link. 😉
I found this recipe through Pinterest. Since it involved cilantro, lime, quinoa and fish, I was on board. Unfortunately, my ingredients were not. I assumed I had quinoa, because I always have quinoa. Well, technically I did have quinoa. But it was the red crunchy quinoa. Not what I wanted. I wanted fluffy brown quinoa. And even more amazingly, I didn't have cilantro. I had thrown it out yesterday as it wasn't in its prime anymore, and had planned on getting more at the grocery store today.
But then I had to walk to the grocery store. Three condos in our building are having work done, and that results in approximately 10-12 trucks and vans being parked in our lot every day. If you leave, you may not get your spot back as the workers will just pull their cars in anywhere and they don't check in at the desk. And I'm afraid to cause a ruckus, as technically my spot isn't my spot. So I pared down my list, walked to the store (maybe that's why I'm tired. Physical exertion sucks), and forgot the cilantro. I had thought I needed it later in the week.
But I think the two missing ingredients worked in my favor. At first I thought I would use dried cilantro flakes. But then I was poking around the pantry to figure out what to use in place of the quinoa and I found my jar of Recaito, which is a cilantro sauce base.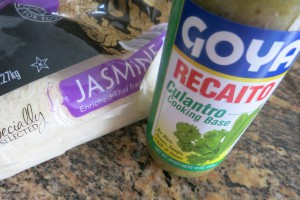 And I got excited about mixing it with jasmine rice. Fluffy, saucy rice! Mixed with the corn, lime and seasonings, it was great. Flavorful and saucy (which is always good) but light, and perfect with the lightly seasoned fish. Which I also changed the seasoning on. The original recipe called for smoked paprika on the fish, but I am not a huge fan of it. I find it smoky (ha!) and heavy. I wanted it not only light, but more Mexican as well. So I used my Tajin seasoning, which is lime based.
I do think fresh cilantro would have added a fantastic burst of flavor to the dish, though, so I will make sure to have it the next time I make this.
Cilantro Lime Rice with Corn and Tilapia
4 pieces tilapia
1 tbsp Tajin seasoning
2 ears corn
1 cup dried jasmine rice
Juice from two limes
2 tbsp Recaito sauce
1/4 tsp garlic powder
1/4 tsp onion powder
1/4 cup fresh cilantro, chopped
Preheat oven to 350.
Place fish in baking pan and season with tablespoon of Tajin seasoning.
Bake for 15 minutes.
While fish is baking boil corn and prepare rice according to directions. When corn is done cut the kernels off the cob. Combine in bowl with cooked rice, lime juice, Recaito sauce, garlic low dear and onion powder. Stir to combine.letiredeiffel
Plate with cooked fish and sprinkle with fresh cilantro. Enjoy!