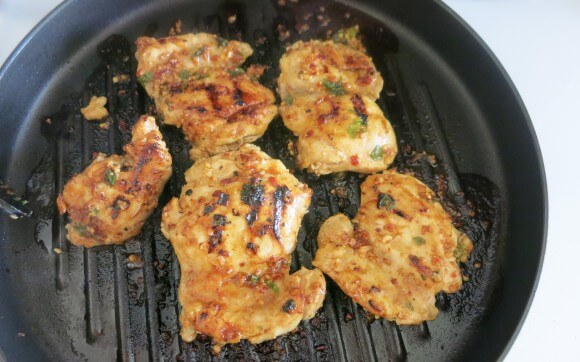 I miss having a grill. In Arizona we used to grill all the time. Partly because the only way Michael likes steak is if he grills a ribeye himself, and partly because when we grilled it was always Michael doing the grilling. Which meant less cooking and cleaning for me. And I am a big fan of anything that gives me less work. Which means that since I plan our dinners, we grilled a lot. 😉
But we are not allowed to grill on our balconies in the condo. Not even with a tiny portable one. And since we live right next door to a board member who is friends with our landlord, we are upholding that rule. Even though our neighbor is flagrantly breaking a rule herself. She has a welcome mat, despite a memo that went around a few months ago reminding everyone that they weren't allowed and would be confiscated. That's right. Welcome mats are unacceptable here. Maybe if we all ordered this one the board would approve, as this is apparently the message they want us sending: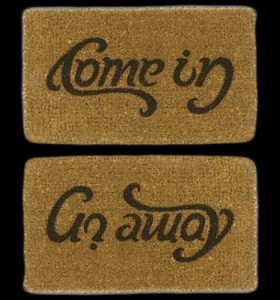 I love this mat. Almost as much as I love grilling. (Nice transition to get back on topic, no?)
The building also doesn't have community grills. I'm assuming this is because at least half the residents here are Orthodox Jews. Which means they can't grill their very expensive kosher chicken on the same surface that someone else might have grilled pork. Or cheeseburgers. Or chicken that wasn't expensive and kosher. And since I have yet to come up with a fool proof way to have two grills where we can guarantee one stays kosher (and trust me, I've thought about, and am open to suggestions if you have any), we do not grill. 🙁
But since 1 1/2 years is a long time to go without, I did buy this lovely grill pan. It's not 100% the same (and it will never see a ribeye), but it is close enough for certain dishes. Like tonight's . I made a fantastic Cilantro Chile Lime Chicken that I altered from a recipe I found on rasamalaysia.
The main change I made was to use sambal oelek (chile paste) instead of chile flakes, since that's what I had on hand. Plus I felt that I could control the heat better with the paste then the flakes, since I was cooking for the six year old. I also didn't 1) make them as kabobs because that's extra work; 2) I used Thai Chile Oil instead of olive oil and 3) I didn't use the last two tablespoons of oil to baste chicken before grilling because since I was using a grill pan the chicken stayed in a puddle of the marinade and I didn't need to worry about it drying out or sticking.
And the chicken did grill beautifully. It had a nice golden color to it, and the cilantro and chile paste adhered to the chicken perfectly, ensuring that each bite was filled with flavor. The cilantro and lime gave a nice light flavor to it, but the sambal oelek gave a fantastic underlying heat to it.
I paired it with a cilantro lime rice that I found the recipe for at Nikki in the Kitchen. It was buttery but not heavy thanks to the cilantro and lime, and provided a cool counter point for our daughter to eat with the chicken.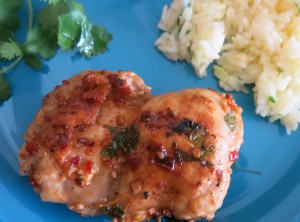 Both the recipes will be going into our regular rotation. And I can't wait to try the chicken on the grill.
Cilantro Chile Lime Chicken
4 garlic cloves, minced
2 tbsp lime juice
1 tbsp sambal oelek (or more if want hot)
4 tbsp chopped cilantro
1/4 tsp kosher salt
1/8 tsp paprika
2 -4 tbsp olive oil
4 chicken thighs
1 lime, cut into wedges
Combine garlic through paprika, plus 2 tbsp of olive oil, mixing well. Pour over chicken thighs, tossing to coat well. Refrigerate for two to three hours for maximum flavor.
If grilling on traditional grill, use remaining two tbsp of olive oil to baste chicken while grilling. Grill till done and slightly charred.
If using grill pan, coat pan with cooking spray and heat. Place chicken on grill, coating pieces with all marinade. Cook approximately 15 minutes, till cooked through. Enjoy!