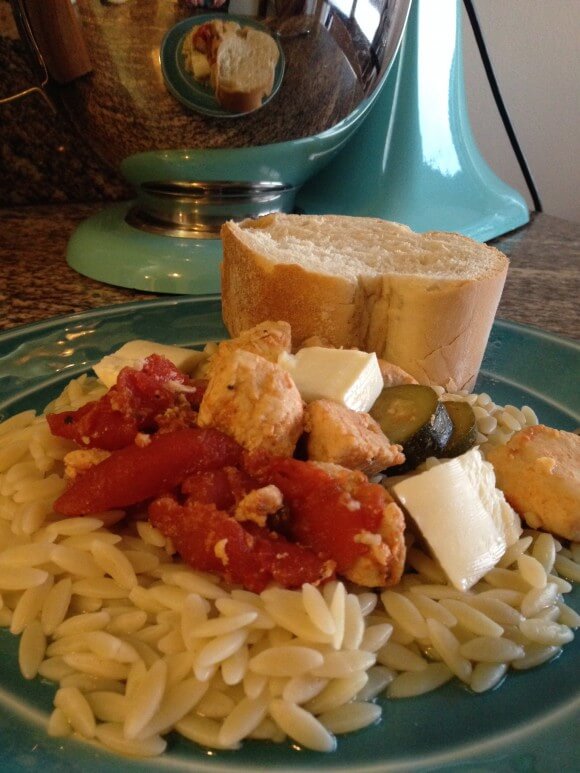 Surfside is a VERY small town. It is approximately one mile long and one mile deep. But there are a lot of people living here, as in addition to houses there are numerous condo buildings. Our building alone has close to 100 units in it.
Which means the town is collecting property taxes on thousands of properties. And those properties ARE NOT cheap. Plus they get a 2% resort tax from the hotels. Currently there is one big hotel, one boutique hotel and one or two small motels. And on Harding Ave there is a two block business area, with restaurants, stores and a big supermarket. I imagine the town gets something from them too. And oh! There are around five or six paid parking lots for the beach.
Which is why the city has a butt load of money. The school gets a nice cut, and we have a huge police presence keeping the area super safe. There are also two nicely maintained parks and an incredible community center. The center offers lots of very cheap or free classes and activities for kids and adults. Plus a huge pool and kids splash pad area that is heated and kept open year round. And access to the pool is FREE to residences.
Even with all this, the town still has money to burn. Cause a city that is only one square mile can only have so many expenses. So they do a ton of events for the residents and hotel guests. These include:
~ Snow on the Beach in December. They bring in snow, jumping castles, treats and more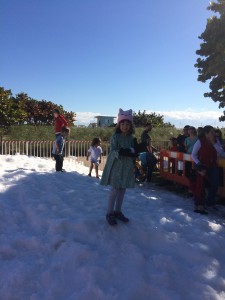 ~ Two Easter egg hunts, one at a park and one at community center, both with hundreds of eggs and great prizes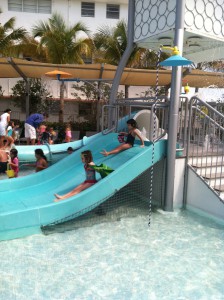 ~ Family Fun Day with jumping castles, rides, food and more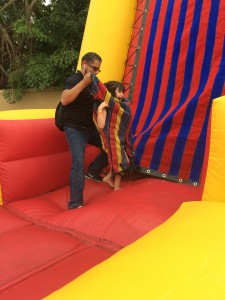 ~ 4th of July party with giveaways, games and an incredible fireworks show
~ Halloween party with a haunted house, rides, treats and more
And these events are all 100% free. FREE! It is insane. I feel like I'm living in Stars Hollow. Which would be awesome if I really was cause I know Sookie, Lorelei and I would all be BFFs.
Last night was another event – Third Thursday Nights. From January – April they hold this event, with a different theme each month. They shut down one of the streets and bring in food trucks and entertainment to coordinate with the theme. Last night was Chinese New Year. They had a Lion Dance performance and Ninja Breakdancers. Both were very cool.
And if you were a member of the Surfside Circle – which of course we are 😉 – you got to go into the VIP section. In that area you were given complimentary chopsticks, take away containers of fortune cookies, delicious passion fruit boba teas, and Geisha style makeup. Plus there were tables and sofas set up on the street so we could be comfortable while we enjoyed all the freebies and performances.
The only problem with the event is that it didn't start till 7pm . And on a school night when the kid has to be in bed by 8, that is late. So we had to forego having dinner at the food trucks, and focus on just the entertainment. I know, life is rough.
We had dinner at home instead, and invited some friends over to join us, before we all headed over to the festivities. So I wanted something tasty, but easy to make as I didn't want to be tied to the stove while our friends were here.
I decided on Chicken and Tomato Orzo with Feta Cheese. I had made it years ago, and have always wanted to make again, but never had. Tonight seemed like the perfect opportunity as it's essentially one pot and needs to simmer for at least 20 minutes, which made it ideal for tonight.
I have no clue where the recipe originated from, as I rewrote it years ago to put in my incredibly organized folder. I followed that recipe pretty closely tonight, with the exception of the cheese. The recipe called for feta, but I offered a choice of Parmesan or Queso Fresco, as that's what I had on hand. The Queso Fresco was only so so, the Parmesan better. But I think feta would have been best.
I also added in zucchini, cause as you know, I like to just add a vegetable to a dish and call it a day on the healthy. Spinach would have been good too. And at dinner we also decided artichokes would have worked.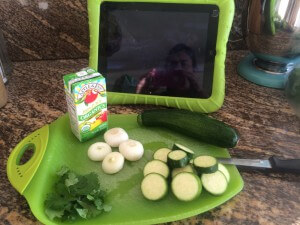 (Yup, watching net flix on the iPad again. Went with Psych. I have managed to find the pineapple in every episode so far.)
I'm looking forward to making it again, with Feta. And the next Surfside activity. Considering a Marriott and a Four Seasons are set to open here in the next year, it should be incredible. I wonder if they will take suggestions. I'd like to see a dance marathon. Or a festival of living arts. Or a first class camping trip with a chance to dress up and jump off a structure. Because those are activities the people of Stars Hollow Surfside enjoy.
Chicken and Tomato Orzo with Feta
3 tbsp olive oil, divided
1 lb chicken
8-10 pearl onions
1 tbsp minced garlic
29 oz stewed tomatoes
1/2 cup white wine or apple juice
2 tbsp minced cilantro
1 1/2 tsp oregano
1/2 tsp pepper
Box of orzo, prepared according to directions
Feta cheese
Heat 2 tbsp olive oil in a medium saucepan. Add chicken and brown on all sides. Remove chicken from pan.
Add remaining tbsp olive oil to pan. Add pearl onions, and sauté 5-6 minutes, until browned. Add garlic, cooking for approximately 30 seconds. Add tomatoes, juice or wine, cilantro, oregano and salt. Add chicken back as well. Mix together. Bring to boil, then cover and simmer over medium heat for 20 minutes, until chicken is cooked through.
Serve chicken and tomato over orzo, with cheese. And enjoy!