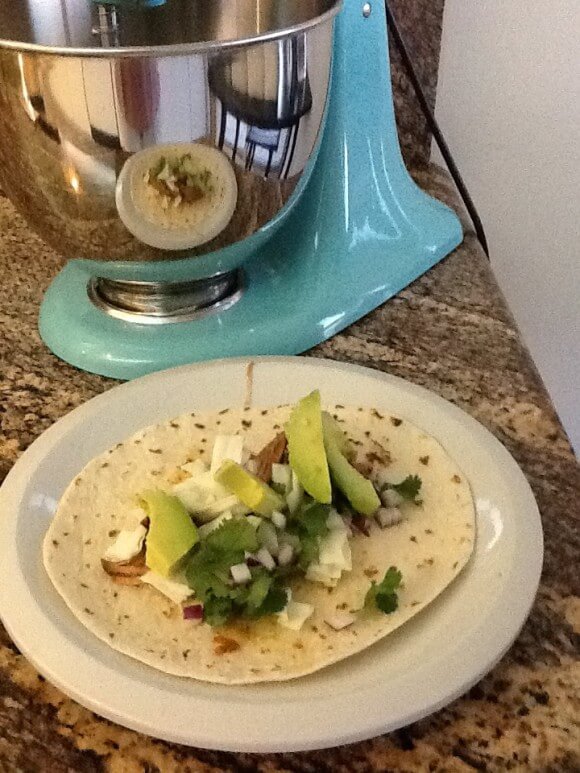 The other day I wrote about zucchini bread, and mentioned Pinch of Yums fantastic recipe for carnitas and tamale pie. And I haven't been able to stop thinking about it since. So today I decided to make it. Added bonus is that it's a crock pot recipe, which is good because Wednesdays are my crazy days.
Averi started Hebrew School this year and she goes on Wednesday afternoons. It starts at 2. She is in school till 1:50. Five miles away. In Miami traffic. And of course, Wednesday is the one day a week that the whole school gets out at 1:50, instead of just the kindergarten and 1st grade. And as mentioned here in the beef and bean soup recipe, this is a Miami school. Which to recap, is around 1500 kids.
All getting out at the same time. Cops are involved to help direct traffic. And last week someone actually hit the cop! Because you know, the cop was in her way. Silly cop, not knowing that expensive cars always have right of way over mere civil servants.
In order to not get stuck in this craziness, and then most likely miss Hebrew school completely, I have to get to the school an hour early in order to be able to get a spot in the school drive through lane so I can get Averi immediately and be on my way. And yes, you read that right. An hour early. It's a good thing I like to read. And if I remember to bring my phone charger, I also like to use that time to call everyone in my phone book till I find someone who will talk to me. And really, people, how hard is it to remember to be available to me between 12:45 and 1:45 every Wednesday? 😉
So after sitting in a car, then sitting in a Temple lobby, then battling traffic to get home, it's wonderful to come into a house that smells delicious and be able to just start eating. Which is why tonight I'm going to just take the carnitas and turn them into street tacos, with cabbage, red onion, cilantro and avocado. And sadly I don't think I will have enough pork leftover to make the tamale pie. But you need to make sure you do. You will not regret it.
You can find Pinch of Yum's original recipe for the carnitas here: pinch of yum. I made two changes to the recipe. The recipe calls for a 1/2 cup of salsa. We actually had it, but Michael likes a pretty expensive brand so I didn't want to use it. Instead I used the Spanish Sofrito mix that I buy at Presidente. It costs a buck, and is basically salsa with tomatoes, bell peppers, garlic, lime juice and a few other things.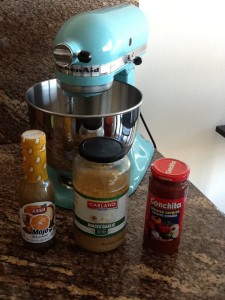 The second change I made was with the beer. Again, we had, but only a couple. And Michael likes when I greet him at the door at the end of a long work day with a cold beer in a frosted mug, plate of appetizers, and the child clean, fed and quiet in her room. Oh, wait. Wrong wife. I am an Arizona Level Trophy Wife. He grabs the beer himself, leaves the cap on the kitchen counter and then sits on the balcony of Averi's room to look at the partial beach view. I normally keep playing on my iPad. 🙂
I looked online to see what was a good replacement, and saw that some people recommended using soup stock. But they all agreed it wasn't as flavorful. Then I read that wheat beers are good in carnitas because of the bitter orange flavor. Well, Presidente to the rescue again! I keep a bottle of Mojo sauce in the pantry at all times. It is a citrus blend, with orange and grapefruit juice, as well as other spices. Winner!
It came out great. A little tangier then I think it would have with the beer, but very flavorful.
So the recipe as I think I will continue to make it:
Ingredients
4-5 lbs pork shoulder or loin
5 cloves garlic, minced
1 tbsp salt
1 tsp cumin
1 tsp chili powder
1 tsp black pepper
1 tsp oregano
1/4 tsp cinnamon
1/2 tsp cayenne pepper
1 tbsp hot sauce
juice of two limes
1/2 cup orange juice
12 oz Mojo sauce
1/2 cup Spanish Sofritos
Instructions
Place pork into a crock pot.
Coat with minced garlic and all dry seasonings, rubbing into pork
Add hot sauce and remaining ingredients to crock pot
Cover and cook on low for 8 hours
Enjoy, resisting urge to eat all of it, so that you have leftovers to use in making the carnitas tamale pie that I will be posting recipe for.
https://discoverph.com/carnitas-in-crock-pot/