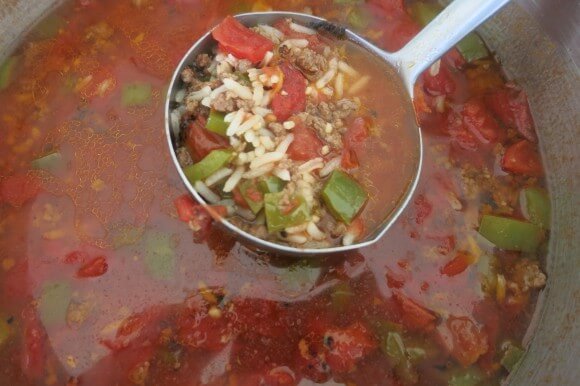 When we moved to Miami we had to find new everything – medical providers, car people, places to take the kid to keep her entertained. Obviously not hair stylists as Michael is bald and I'm Arizona Level and go to Super Cuts. All though in my defense, that's also partly because when I go to fancy salons the stylists always get excited by my curly hair and want to give me cuts that look great when they style them but leave me looking like a poodle when I try to recreate it the next day. So just a trim, please. But I will splurge the extra $10 and get the shampoo, because hello, head massage.
We also, obviously, needed to find restaurants to enjoy, as I can only be expected to cook so often. So Michael became obsessed with Yelp. We didn't go anywhere without him checking it out first on Yelp. And since, like me, he enjoys giving his opinion and criticism under the guise of being "helpful", he started leaving his own reviews. Plus he would check in, especially since some places give you freebies when you do so. And I think he liked being crowned the duke and what not.
So anyway, with all this going on, he quickly got referred to be an elite member of Yelp, and was accepted. So then he started getting invited to all these elite Yelp events. Events in cool restaurants where they give you free food and drinks. In other words, events tailor made for an Arizona Level Trophy Wife. Except I wasn't allowed to go because I wasn't elite and they don't let you plus one to most of these. ;(
So last month I finally hopped on the Yelp band wagon. I am checking in and writing reviews like crazy, hoping to get to the elite status. Although in my second week I had to stop and reconsider it, as Michael is my Yelp friend and can therefore see what I do. As I learned when he commented on the fact that I had eaten lunch out four of the five days that week. Knowledge is power and he doesn't need that kind of power. 😉
Which is now why before I check in somewhere I think about whether Michael needs to know. Yesterday I took Averi to lunch at Subway and decided it could be justified – we had been at park for past three hours with friends, it was lunchtime, I had errands to run still and if I went home to feed the kid I would obviously be to lazy to go back into the heat and run them. Totally justified.
So I checked in and wrote my review. Subway food is subway food, the bathroom was dirty and out of toilet paper. When I asked for some I was given a stack of napkins. One girl working who was nice but inefficient and it was busy. I gave three stars out of five. Which Michael commented on later that night. He couldn't believe I had given them three stars considering the bathroom and slow service.
I have apparently gotten to use to living in Miami. Just the fact that I had been acknowledged and treated nicely, even if it was a bit slow, was enough to make me happy. Well, that and the fact they had coke zero. 😉
In just two weeks though, Averi will be back at school and I will need to be the one providing lunches. She still doesn't want sandwiches though, so I'm trying out new soups. I made a Cajun Style Stuffed Pepper Soup. I found the basic recipe at itisakeeper.com. It called for diced tomatoes and I had fire roasted ones, so I decided to go with that and add Cajun seasoning to the ground beef.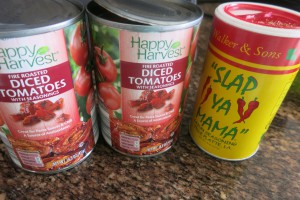 It was delicious. Little spice to it, but not overwhelming, and very satisfying with the beef, rice and veggies. This will definitely go into the lunch rotation. I just hope Averi gives me five stars and does not comment on the cleanliness of my bathrooms. 😉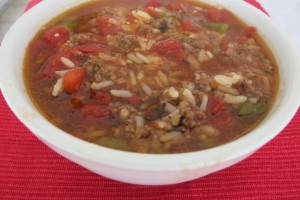 Cajun Stuffed Pepper Soup
1 lb ground beef
2 tbsp Cajun seasoning
2 bell peppers, chopped
3 tbsp minced garlic
29 oz fire roasted tomatoes
2 tbsp beef bouillon
29 oz water
2 cups cooked rice
2-3 cups spinach
Add ground beef and Cajun seasoning to a Dutch oven. Sauté until beef is cooked through. Drain grease.
Add bell peppers, garlic, tomatoes, beef bouillon and water. Bring to a boil. Reduce heat to simmer and cover, cooking for 15 minutes. Add rice and spinach, cook for another five minutes till rice is heated. Enjoy!