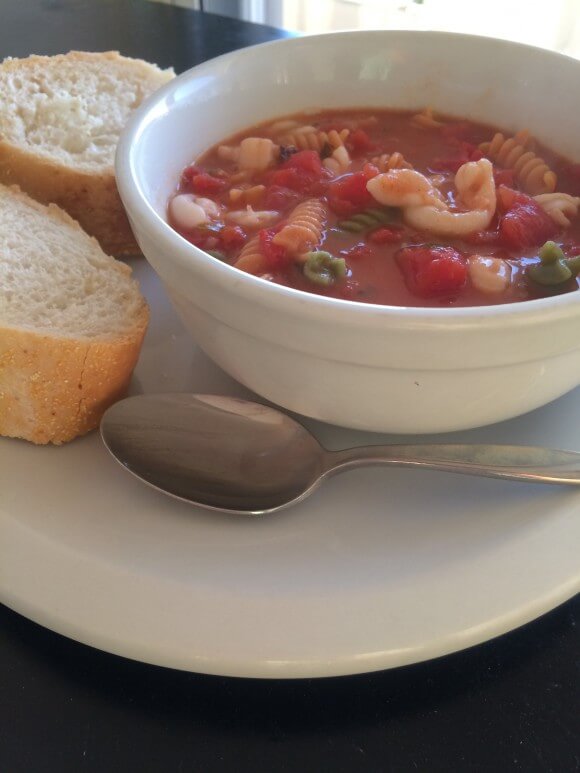 For Lent I decided to give up not following through on stuff I say I'm going to do. Now, I'm not actually sure if this is the type of the thing you give up for Lent, since I'm Jewish. I'm also not even sure I made sense in that sentence, since things that make sense in my head don't always make sense when said (or typed) out loud. But essentially, I'm trying to say that I'm going to start doing the stuff I say I'm going to do.
And I'm saying all that because I finally made the seafood soup that I said I would make in the Avocado Lime Rice post a few weeks back. But first, I will also honor the promise I made in the Chocolate Butterscotch Banana Muffins entry and tell you about the realtor we used when we moved here.
We tried looking on Craigslist and hotpads for available rentals, but weren't having much luck. And we had a time crunch because even though Michael moved to Miami two months before Averi and I did, he had two work trips during that time and wouldn't actually be in Miami for most of those two months. And I refused to move here until we had a place to live.
So a friend recommended a realtor, and Michael called her. He told her what our needs were – two bedrooms, two baths, at least 1000 square feet. On the beach. In an area that was good for our daughter. With a washer/dryer in the unit. Or if the place was really incredible, we were willing to have a shared washer/dryer as long as it was on our floor and we only had to share it with a few other units.
To which the realtor told him that we were high maintenance. Now granted, as an Arizona Level Trophy Wife I like to think I am a little high maintenance. But really? Not wanting to share a washer and dryer with more than five other families makes me high maintenance? Maybe this is why most people who live here wear really skimpy clothes. You can fit more into a load of laundry, allowing you to go longer in between needing to do laundry, so the inconvenience isn't as big a deal.
In addition to not seeing eye to eye on a washer/dryer, we also didn't agree on location. As I've mentioned, we had already decided on the Surfside area. But the realtor kept trying to take Michael to other areas. Areas that weren't family friendly, or with good schools. The realtor kept pushing them though, saying they were real close to great shopping and restaurants. Michael kept saying that we didn't care about that stuff, that our focus was on our daughter. But she wasn't listening. She thought we needed to be somewhere fancy.
Until Michael told her that he drove a twelve year old Toyota Camry. To which the realtor replied "oh, you are so not Miami." And Michael said "exactly."
Which is how we finally ended up with our two bedroom, two bathroom condo in Surfside, with a stacked washer/dryer in the kitchen.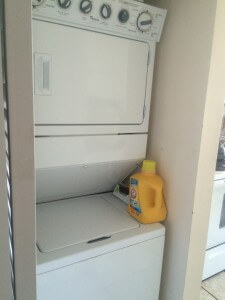 Does this washer/dryer not scream high maintenance?
And that is the story of our realtor. Now, back to the bag of seafood I got at Presidente.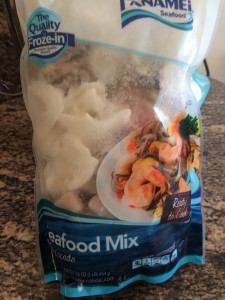 I decided to make a soup with it. Specifically, a New Orleans Fish and Rice soup I found on Martha Stewarts website. But of course, adjustments were needed. For starters, she uses shrimp only. Whereas I had bag o fish. Secondly, she sautéed celery, bell pepper and onion in a roux. But Averi doesn't like celery or onions in her soup, and I was shopping today at Publix and didn't want to spend $2.39 on a green pepper. So I bought cans of Hunts tomatoes that had green peppers and pieces of onion and celery so small I knew Averi wouldn't notice.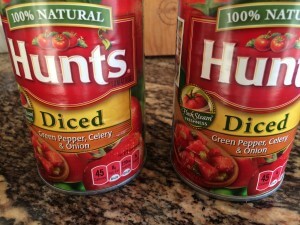 My final change was to make pasta instead of white rice. Because pasta is yummy. I also threw in some spinach at the very last minute, because I realized I had no vegetable planned. I really need to start serving salad.
The broth turned out great. I still made a roux base, and it made the soup thick and hearty. And the Cajun seasoning that my MIL got for me in New Orleans is incredibly flavorful without being spicy. Plus it has an awesome name.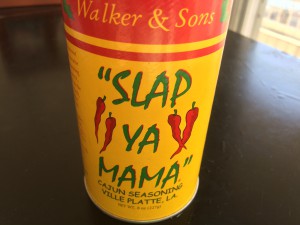 I will definitely be making this soup again. In my kitchen, in my non-fancy neighborhood, while I do laundry right next to the stove. High maintenance, indeed. 😉
Cajun Fish Stew
8 tbsp unsalted butter
1 1/2 tbsp flour
2 cans (17 oz) diced tomatoes with green peppers, celery and onion
16 oz chicken broth
1 tbsp parsley
1 1/2 tsp cajun seasoning
1/2 tsp paprika
1/2 tsp salt
1 lb shrimp, or a bag of fish
2 cups cooked pasta
Spinach
In a Dutch oven, melt butter. Add flour, stirring until browns, approximately two minutes. Add tomatoes, chicken broth, parsley, Cajun seasoning, paprika and salt. Stir to combine, bring to boil. Reduce heat and simmer for approximately 20 minutes, until thickens.
Add in fish, and cook until heated through. Add in noodles and spinach. Then spoon into bowls and enjoy!