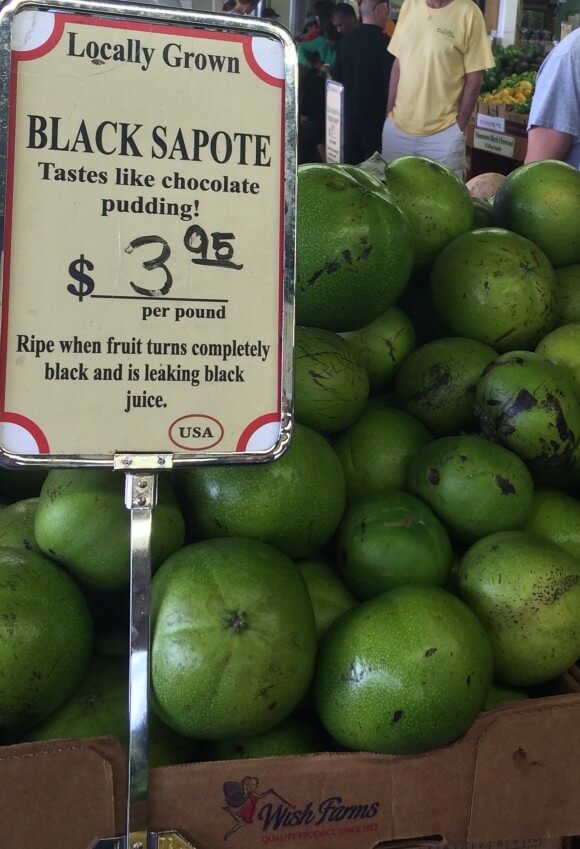 In Tucson we belonged to a great Temple. The Rabbi didn't give the best sermons (boy went off on random tangents like you wouldn't believe), but he was fantastic at the kids services, where his go to move was to do headstands while the kids counted how long he could hold it. And once a month there was a family potluck followed by crafts. And I am talking basic crafts – popsicle sticks and cutting construction paper crafts. Everyone who attended was very nice and we made some friends.
So when we moved to Miami we were hoping to find a similar Temple. First we tried the one where Averi was going to preschool. They said they didn't have actual family services, but that the every Friday night ones were family friendly. So we went. It was not family friendly. There were maybe 30 people there and Averi was the only kid. The Rabbi got into an argument spirited debate with one of the members, where he had to keep checking what he was going to say, because of Averi. Then there was the lady who wore an outfit very similar to this dress (except hers was burgundy) and shoes. I am assuming she was going some where after.
Another friend then recommended a Temple nearby, in Adventura. This Temple had MONEY. The first sign was that the Sanctuary was named after Billy Joel or Phil Collins, I can't remember which. Whichever one it was, though (and I'm leaning towards Billy Joel), was apparently a member and donated some serious money.
The second sign was the services. Every Friday night they had "Friday Night Live". This is where the Rabbi and two Cantors played as a band to lead services, and then it was followed by a fully catered, free meal. Once a month there was a theme and in addition to an even better dinner, there was jumping castles, games, food carts and more. Again, all free. Averi obviously loved it, but the people attending were very cliquish and no one was incredibly nice. We tried for around 6 months (between the free food and events and the chance to meet a celebrity, how could we not stay that long?) and then gave up.
So then we got another recommendation and tried a Temple in Miami Beach. They did their kids services on Saturday morning. There was obviously money here too, but everyone was much more relaxed about it. Dress was casual and people were very friendly. The only food was a box of donut holes. We had a winner! So we joined.
Last year since Averi was in kindergarten we transitioned from the family services to her going to Hebrew School on Wednesdays and Saturdays. If you read this blog regularly, you know how I feel about getting to the Wednesday sessions. But Saturdays were great. Three free hours! Then this year in an effort to get the parents more involved, they switched from every Saturday for kids only to once a month for full families.
They are pulling out all the stops for these Saturdays, and it is once again becoming apparent that there is serious money here. The first one they brought in one of those painting places and we did this: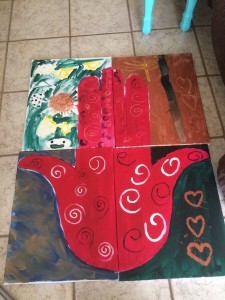 I was sure it would be a bait and switch situation where the rest would not be as fun. But I was wrong. Since then we have visited a botanical garden, had a Chanukah Party, and most recently visited a berry farm. The farm was in the Homestead area, which is around an hour away and where everyone says the best Mexican food is. So even though the Temple chartered a bus to take everyone in, we opted to drive on our own and make a day out of it. We did the berry farm, a mexican restaurant for lunch and the fruit and spice park.
Then the highlight – Robert is Here fruit and shake stand. This place was awesome. Live music, playground, animals, and weird fruits and veggies that you won't see anywhere else. Like the Sapodilla.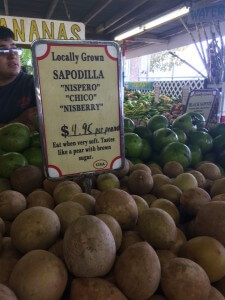 And the Black Sapote.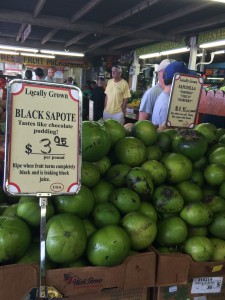 I mean seriously, with a description like this how could you not want to buy it? It sat on our counter for over a week until it was a lovely shade of black. Then Michael got impatient one night and cut it open to try. It was okay, but nothing I really wanted to eat straight. So then I was forced to bake at 8pm at night to use it. I found a recipe on line for a Black Sapote bread and went with that. I shouldn't have – it really wasn't good. So I won't share the recipe with you. Stick with my incredible Cinnamon Banana Bread instead.
But anytime you want to go to Robert Is Here for a Black Sapote, banana and strawberry shake, I am in. Because it is delicious that way.