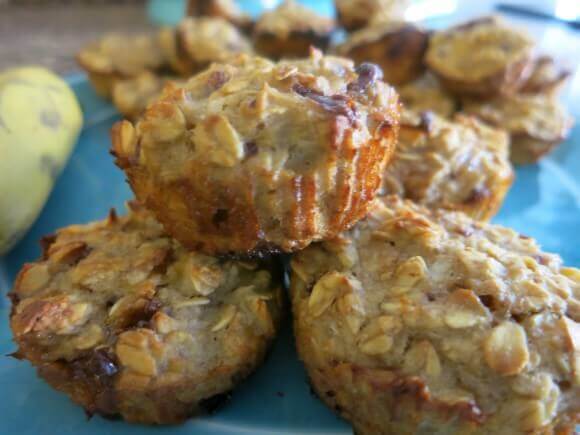 We are only on Wednesday , but we have had a full week of weather. The tornado warning on Monday ; intense rain yesterday; and then today was cloudy and gloomy and thunderstorms are suppose to start tonight . More rain is expected tomorrow .
So I believe the rainy season has officially started. Which means I really should get a rain coat. A friend showed up at school pick up today in an adorable opaque one with purple and orange polka dots. She said it was light weight and only $11. Score! She got it on amazon. So I visited the website to see if I could find something similar.
I did not. But the options I did find! There was this piece, which I love as people will still be able to admire my ensembles.


Or this piece, which provides the opportunity for all kinds of fun pranks and shenanigans.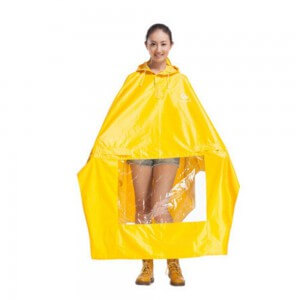 Or this raincoat, which was very smartly styled with a bathing suit. Because obviously, you want to ensure that your bathing suit doesn't get wet.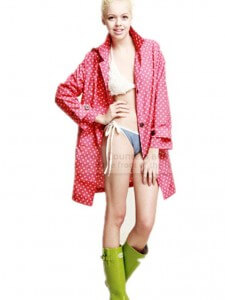 And speaking of styling, may I also present this raincoat. Which for some reason is paired with a large shovel. No background pic or setting is used. Just a man with his shovel.


I suppose the shovel could come in handy with everyone's gardening, as the rain is not only good for inspiring a need for raincoats, but for fruit and vegetable growth (how's that for a transition?). At my garden plot my orange and yellow peppers are growing like crazy and we picked our first three cherry tomatoes today. Which Averi immediately ate and declared delicious.
And a friend of mine picked her first batch of bananas off the tree in her backyard yesterday. That's right. People here have banana trees in their yards. And coconut, mango and avocado trees too. Luckily for my condo dwelling self, my friends share. I got a bag of around a dozen of the lovely little bananas today.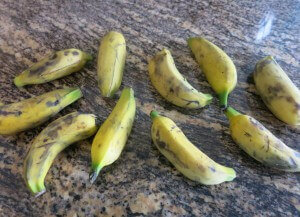 So I decided to make some muffins. But I wanted them healthy so I could pack as Averi's morning school snack. I found a recipe on Green Lite Bites for Banana Oatmeal Cups with Chocolate Chips. I liked that the ingredients were minimal, with no sugar and lots of oats.
I also liked that the recipe called for a cup of almond milk. Not that I have it. But I do have a carton of Horchata. Remember my chocolate ice cream floats with RumChata? Well, after I introduced that great drink to my friends, one of them saw a bottle of Horchata and decided to get it. But while it is still good, it is no RumChata. So they didn't want to drink it and gave it to me, as Averi loves that kind of stuff. And I loved that it is cinnamon flavored. As we have discussed before, all banana and oatmeal baked goods need to have cinnamon. Since the recipe did not call for any, this was a great way to add in.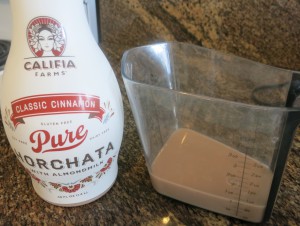 I also did not have chocolate chips. But I had Heath toffee bits. After I added those, though, I started to worry that I was taking away the healthy aspect. So I added in shredded coconut to bring the balance back. 😉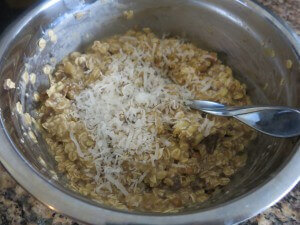 I made regular muffin size, plus mini muffins. Both sizes came out great.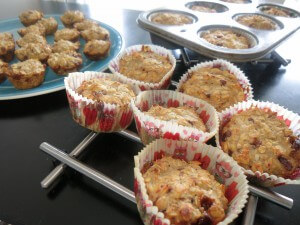 The toffee taste was a nice compliment to the bananas, and the coconut didn't overwhelm. The cinnamon was a little mild for my taste, though, so next time I think I would add additional cinnamon to the mix.
Assuming I get more bananas. I better go package some of the muffins to give to my friend as a thank you. And a bribe to get more bananas. And mangos. And avocados. And coconuts. 😉
Oatmeal Banana Toffee Muffins with Coconut
3 bananas (or 9 small bananas picked from friends tree), mushed
1 cup Horchata (or milk of your choice)
2 eggs
3 cups old fashioned oats
1 tbsp baking powder
1 tsp vanilla
1 tbsp cinnamon
1/3 cup coconut
1/2 cup toffee bits (can substitute chocolate chips)
Preheat oven to 375.
Combine all ingredients, except coconut and toffee bits. Once mixed, add coconut and toffee, stirring gently to combine.
Pour into muffin tins coated with baking spray, almost to top. Bake regular size muffins for 25 minutes and mini muffins for 10 minutes. They will be browned around edges when done.
Enjoy!