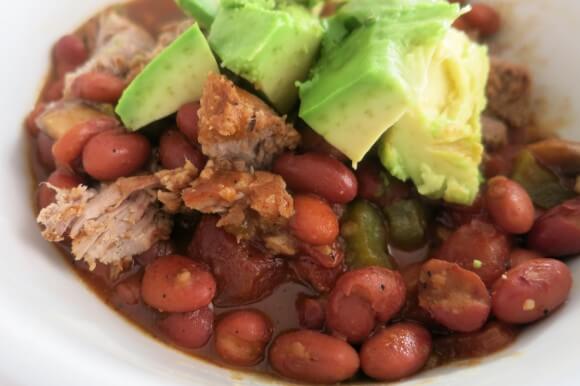 School started today. And to twist the words of the Pink Ladies "I'm going to rule the school".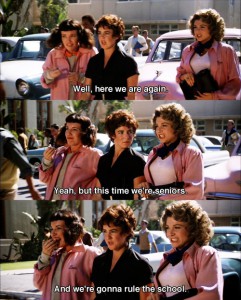 Because today I upped my game to Miami Level. Today I received a parking permit from the school. And it is going to rock my world. Because now I can park my car pretty much any place I want to at the school. Whenever I want to. And for those of you who have read this blog, and know about the parking/dismissal/hordes of people situation that is my daughters school, you know what a big deal this is.
This is going to free up that hour I spent sitting in my car on Wednesdays, because of early release day combined with Hebrew school. This is going to let me park right at the school and leave my car there during the hour I lead the Girl Scout troops, instead of parking in the garage a block away and schlepping all my supplies and snacks for the girls.
Now, full disclosure. I'm still really just AZ Level. They didn't just give it to me to give it to me. They gave it to me because I am on the PTA, as co-chair of the cafeteria volunteers. Which means I am going to need to be in the cafeteria A LOT. The cafeteria where we already had one kid vomit today (luckily a different volunteer handled that). The cafeteria that gets VERY noisy from over 200 kids being in there at one time. And VERY messy. But I think the parking pass (and my love of bossing around kids), will make it worth it. Plus, Averi still likes having me there.
And since she isn't trying to pretend like she doesn't know who I am,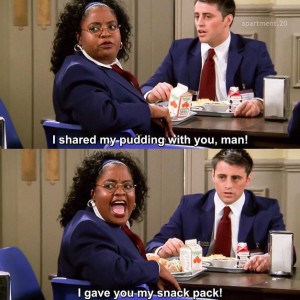 the other benefit of being in the cafeteria a lot is that I can bring Averi her lunch, instead of packing it. This is huge, as she likes hot lunches. Like today's Ancho Pork Chile.
It is really suppose to be Ancho Pork and Hominy Stew, but I made it on spur of moment and had no Hominy. But I did have two cans of red beans. Sold! I made a few other small changes to the seasoning, and Michael suggested adding mushrooms (and even chopped them).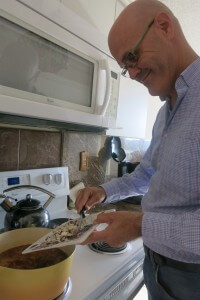 It was delicious. Moderate spice level, which can be easily tamed by avocado for the kids. And wimps. 🙂
I know I should explain it more, but to be honest, I am still tired from my week in New York and having to wake up this morning and be productive at a normal hour, instead of my summer hours of 9 am. And I have to do it again tomorrow.
But at least I won't have to walk far. 🙂
Ancho Pork Chile
1 tbsp ancho chili powder
1 tsp dried oregano
1 tsp smoked paprika
1/2 tsp ground cumin
1/4 tsp salt
1 – 2 lbs pork tenderloin
1 tbsp olive oil, divided
1 green pepper, chopped
1 tbsp minced garlic
2 tbsp cilantro base
2 1/2 cups chicken broth
28 oz red beans
14.5 oz fire roasted tomatoes
4 – 5 mushrooms, chopped
Avocado, sliced or chopped
Combine first five ingredients in a large bowl. Set 1 tsp aside. Add pork to remaining spice mix, and coat well.
Heat 1/2 tbsp oil in Dutch oven over medium high heat. Add pork to pan, browning all sides. Remove pork from pan, set aside.
Add remaining oil to pan. Add green pepper, garlic and cilantro base. Saute for five minutes, or until pepper is tender. Return pork to pan. Add remaining ingredients, except avocado. Bring to boil. Partially cover, reduce heat and simmer 25 minutes.
Spoon into bowl and garnish with avocado. Enjoy!